Top 10 Creative D.I.Y. Christmas Crafts
Hang on for a minute...we're trying to find some more stories you might like.
It's that time of the year again: kids bundled up in the cold, adults shopping like there is no tomorrow, Santa and his reindeer coming down from the North Pole to take pictures with little kids, and houses decorated with Christmas blow ups and Christmas lights. We all like to get creative and crafty around the holidays–I know I do–so here are Top 10 do-it-yourself Christmas crafts:
When I put up my Christmas decorations, I'm always hungry and exhausted afterwards. This craft is a good way to reward yourself after a hard day's work. Take a mason jar that you can get from your nearby craft store, and paint the inside a sparkly white color. Wait for it to dry and then take two googly eyes and glue them to the outside of the jar. Take orange construction paper and shape it into a cone for the nose, and glue it onto the outside as well. Grab some small black beads and glue them into a shape of a smile for the mouth. Add some of your favorite candies and stick them inside the jar.
Is Rudolph your favorite reindeer? He sure is mine! There are a variety of Christmas characters that you can make out of these pots, but Rudolph is the easiest and simplest but still pretty cute. You're going to have to get a small brown flower pot from any kind of gardening store or craft store, or, if you don't feel like going out, take brown paint and paint the whole inside and outside of a small flower pot. Take two googly eyes and glue them to the outside along with a red ribbon to glue on as well. Pick up two pipe cleaners and shape them into reindeer ears.
Christmas trees are always exciting to decorate. For this craft, you're going to need a regular popsicle stick and five other different sizes. Use your five different-sized popsicle sticks and glue them onto the normal-sized stick (which should be vertical) in order from smallest (at the top) to largest (on the bottom) horizontally. For this step, you can either glue the rhinestones onto the sticks or sparkle glitter all over the tree. Add a glittery yellow star for the top of the tree.
This craft is easy and affordable, and you can get all of these materials from Michaels or A.C Moore. Get a hold of any mini Christmas character toy and add hot glue to the bottom of it. Take the bottom of the toy, and put it in the center of the mason jar. Press down so the toy doesn't fall when you're doing the other steps. Let the hot glue dry for 10 minutes. Fill your jar with water (you can choose the amount of water), and add a small drop of glycerin (it's will make the glitter move easily when shaking the globe). Add a pinch of glitter, but not too much because it will otherwise make the globe look cloudy.
Santa Claus crafts are always the way to go! Take your white paper plate, and using red paint, paint a little less than half of the plate. While you're letting the paint dry, get a piece of white printer paper and cut them into ten strips. Curl your strips by wrapping them around a pencil or pen; this will create the perfect bouncy curls. Use glue and stick the strips along the rim of the plate. Take a couple cotton balls and glue them to the edge of the red paint. All that is left is to paint the nose by using the red paint to draw the two eyes right above it.
Cinnamon and Gingerbread make such a good combination, and it smells really good when the two are combined. You can get all this stuff from your nearby dollar store. Use ¾ cups of applesauce, 1 cup of ground cinnamon, and 2 tablespoons of white glue and mix them all together until it become doughy. Make sure the dough isn't too dry. If so, just add more applesauce, and if it is too wet, add more cinnamon. Shape the dough into a big ball and then use your rolling pin to roll it out. Use gingerbread cookie cutters to make as many little gingerbread people as you would like. When you are finished, put the gingerbread onto a parchment lined baking sheet on a pan. Before putting it in the oven, use a straw and poke a hole at the top of the gingerbread with the bottom of the straw. Now it's time for baking! Bake the gingerbread at 225 degrees for 2 to 3 hours, and flip them twice so they're even on both sides. Take any kind of small  string or rope, loop it around the hole you made earlier with the straw, and tie it together.
 Snowman Door Decoration (right)
     This is my personal favorite, Snowman on a door, as I like to call it. Every year my family and I dress up my closet door into a beautiful and cheery snowman. Cut ten small black circles out of construction paper; we will use these for the buttons, mouth and eyes. Then cut out a big nose out of orange paper. Take your 10 small black circles and tape them onto the door, two for the eyes, five for the mouth, and three for the buttons. Along with taping the circles, also tape the orange "carrot" nose right under the eyes. Then, make a top hat out of black construction paper. Tape it just above the eyes just little bit titled‍. For the scarf, I used wrapping paper, but you can use construction paper for this as well. Cut out a long strip that is the width of your door and two other short pieces. Take the two short pieces and tape them to the long piece  into a scarf look-alike. Tape the whole scarf onto the door, and your craft is complete!
Mason jars are adorable and can be made into many crafts– like this one! Use a paintbrush and paint glue on the inside of the jar. Take a spoon full of silver glitter and apply it to the glued area. Take a mechanical or  regular candle and place it in the center of the jar. For after the holidays, if you want to use the mason jar for another reason, you can just soak the jar in some water to remove the glue and glitter.
      Hot chocolate is one of my favorite drinks during the Winter time. A perfect day for me is drinking Hot chocolate and snuggling up in my blankets watching Hallmark movies. For all my chocolate and marshmallows, lovers this one's for you!! While you're preparing your hot chocolate, take a mini pretzel stick and slide three marshmallows onto the pretzel. Take a stick and break it into two pieces. Put one piece on one side and the other piece on the other side, each stick acting as arms. Repeat this step for the legs. Take a candy corn for the nose and smush it into the face of the snowman. Using black icing, draw on the eyes, mouth, and the buttons.
    If you're like me and use clothespins to hang up pictures, then this is the craft for you. To start out, cut a small piece of yarn for the scarf and tie it around the white clothespin. To make it stick better, use a tab of glue! Draw on the eyes, mouth and buttons with a sharpie. Take a mini orange pom pom, and glue it onto the clothespin acting as the nose. There you have it: your own snowman clothespin.

About the Contributors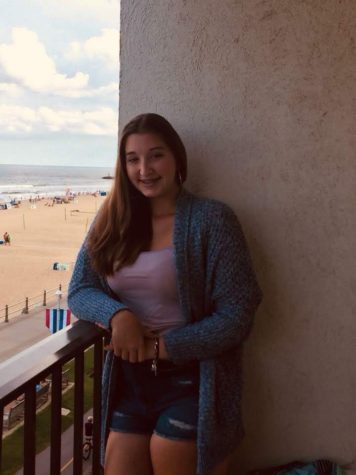 Gabrielle DeFrangesco, Editor-In-Chief
I am currently a Sophomore and Editor-in-Chief for the Norristown Area High School Wingspan. I am also on the Varsity Field Hockey team, Varsity Swimming...
Jonathan Eisen, adviser
I have been teaching at Norristown Area High School for five years; however, this is my first year as the adviser for the Wingspan.  Along with both School...