Top 10 Non-Traditional Twists on Thanksgiving Feast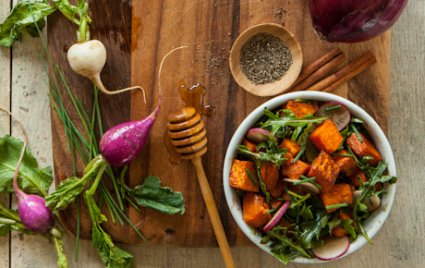 Most Americans know the dishes for a traditional Thanksgiving dinner : turkey, stuffing, corn, mashed potatoes, and green beans. These classic dishes are great and delicious, but some of us wish to venture beyond the same foods we eat every year and prepare some less traditional meals. These are the Top 10 non-traditional Thanksgiving dishes (or non-traditional takes on traditional dishes). Feel free to use the links provided for recipes to enhance your own Thanksgiving feast this year.
Chicken as the main dish.
Skip the Turkey this year and head in a new direction: Chicken! The easy part of this switch is that you can roast your chicken the same way you roast your turkey. Add a little bit of herbs and seasoning, and Bon Appétit!!
Minestrone Soup
My family has a long tradition on making Minestrone Soup every holiday that we celebrate together. Minestrone Soup is a thick Italian soup filled with delicious vegetables and pasta or rice. This dish can add a homey feeling that you can bring to the table.
Roasted Sweet Potato Salad
Although its main ingredient is the classic Thanksgiving sweet potato, this salad can bring some healthiness into your holiday that is largely about stuffing your face with heavy food. You can add Honey-Maple or Chutney Vinaigrette to sweeten up the salad even more. This salad makes you get into the mood for fall!
https://www.wholefoodsmarket.com/recipe/roasted-sweet-potato-salad
Braised Pineapple with Star Anise and Ginger
Pineapple is one of the many fruits that you can add into any meal and make your taste buds pop! Star Anise and Ginger mixed with a pineapple juice can be made into a thick syrup. Adding some Hawaiian food can make your Thanksgiving even more extravagant.
https://www.wholefoodsmarket.com/recipe/braised-pineapple-star-anise-and-ginger
Mandarin-Glazed Carrots
Sweet Mandarin Oranges blend perfectly with carrots, balancing the sweet and citrusy flavor of the oranges with the firm, slight bitterness of the carrots. This is a good one for a Thanksgiving meal because you can always make it a couple days before, knocking out one of the many preparations off the list early. Just reheat it on the stovetop when you are ready to serve!
https://www.wholefoodsmarket.com/recipe/mandarin-glazed-carrots
Seeded Coconut Crackers
These bland crackers can be turned into a savory treat by adding shredded coconut. This is different from the servings from your typical Thanksgiving meals but that's what makes it even more delicious. Different is always better in any case scenario!
https://www.wholefoodsmarket.com/recipe/seeded-coconut-crackers
Szechuan-Style Cornish Hens
Szechuan, sometimes known as the Chinese Pepper, adds a hot spice, which is always good, because the more spice, the better the meal is. You can always substitute the pepper for ground pink peppercorns or a dash of allspice.
https://www.wholefoodsmarket.com/recipe/szechuan-style-cornish-hens
Green Beans with Mint and Satsumas
Green beans are pretty traditional for many families during Thanksgiving,  but try changing this dish up a little by adding that minty and a citrus base. You can change up the citrus base by using a variety of clementines, tangerines or blood oranges.
https://www.wholefoodsmarket.com/recipe/green-beans-mint-and-satsumas
Cornbread Sausage Stuffing Muffins
This cornbread muffin can be baked with sausage, onions, celery, or scallions. It combines the best of both worlds: you can get the sweet taste of cornbread but also the savory flavor other ingredients, which will also keep the bread from drying out.
https://greatist.com/eat/thanksgiving-side-dishes-that-shake-things-up
Red Curry Mashed Potatoes
Regular Mashed Potatoes are old, so it's time to add something new. Swap out coconut milk for a few drops of red curry paste for a bit of a spicy touch. For all my vegan readers out there, this is a good dish to add to your dinner plate!
https://www.cookingcurries.com/red-curry-mashed-potatoes-thanksgiving-side/