"To All The Boy I've Loved Before" is the Perfect Rom-Com Escape with a Powerful Message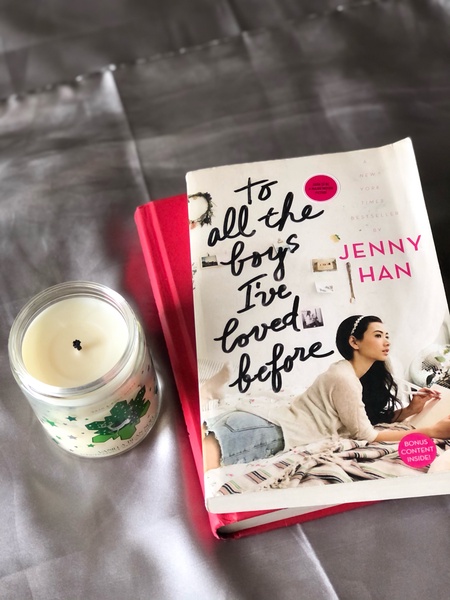 "To All The Boys I've Loved Before" is your typical rom-com situation, with a popular guy and the quiet girl in school who each make a deal to be in a fake relationship with each other but then fall for each other after all. It sounds like your typical teen romance book, however, it is a whole other different ball game.
A popular Nextflix movie as well, "To All the Boys I've Loved Before" has been a book series this whole time. The series was written by Jenny Han, a New York Times bestselling author, who has written many other young adult novels such as "The summer I felt Pretty" and " The Burn to Burn trilogy." The genre is a teen romantic comedy, which happens to be one of my favorite genres. Teen rom-coms always help me feel like a hopeless romantic, and who doesn't want to fantasize a little?
The first book of the series, "To All The Boys I've Loved Before," is about Lara Jean, a 16-year-old girl finding romantic love with the help of her family and friends. Lara Jean has had these crushes in the past that were so powerful, she ends up writing how she feels in letters. She has always kept these letters hidden away until they end up getting out. What she doesn't know is that these letters will lead to her falling in love with Peter Kavinsky, a stereotypical popular and athletic guy.
Sometimes books have slow beginnings and aren't necessary, but you always need a backstory to understand what happens when it gets good. The beginning of this book too may feel a little boring, lacking important detail about her whole family that I felt I needed, but around 40 pages into the book, the good drama starts when something happened out of nowhere, and from that point on, I couldn't stop reading.
I felt the overwhelming emotion Lara Jean was feeling. It was tremendously amusing to see her sister Margot, her best friend Josh, and her old friend Peter experience love. It brings out the character's personal life experiences and how they are involved with Lara Jean. Her mom had recently passed away, so she is finally trying to learn how to keep a stable life without her mother in her life. When the five love letters go out to Peter Kavlinsky, Josh Sanderson, John Ambrose Mcclaren, Lucas from homecoming, and Kenny from camp, her life is turned upside down. However, all the characters feel a fragment of love, which felt luminous to read.
While reading the book, I have interpreted that the theme is that family can always be there for you as long as you can forgive, and when you forgive a person, you are winning the fight of good vs evil.
The book's intentions were for readers like me to experience the feeling of seeing the possibilities of getting out of your comfort zone even if you need a push.
Everyone has a comfort zone that needs to be broken at times. We really don't get anywhere if you stay in that same place with the same people and do the same thing every day. When people don't make plans or just do the same exact same thing over and over I believe you become bored and sad. But if we could just push ourselves to be the best versions of ourselves and try new things every day. We can make goals for ourselves and become more confident we can achieve them, then we will become happier. In the beginning, Lara Jean seems sad and lonely, but when those letters g4t out and Peter pushed her outside her comfort zone, she becomes confident and happy.
The element I liked most about this book is the way Jenny Han tells the story. The way the book can make you feel happy, in awe, and make you feel hopeful about love and happiness in an infinite feeling. To All The Boys I've Loved Before is a suspenseful but epic ride, and I believe you would love to read this book if you want to feel hope or inspiration. It has a lot of great moments that make you think "what if?" "To All the Boys I've Loved Before" because is an innovative, amiable, and serene story that I strongly recommend.