Top 10 Summer Movies We are "Patiently" Waiting for
2019 is the summer of sequels and and modern remakes of old movies from the past. These movies hope to be packed with comedy, action, and romance. I love going to the movies with my family or friends, relaxing with the reclining chairs and eating my popcorn.  Without further ado, cozy up with a blanket, sip your coffee, take a good look at the top ten movie that audiences have been patiently waiting for this summer.
Marvel Entertainment
"Avengers: Endgame" – April 26, 2019
Spoiler Warning for "Avengers: Infinity War" and "Avengers: The Age of Ultron"
We all know the Marvel Cinematic Universe movies, the series continues with a new enemy and action packed scenes each time. Each movie creates many emotions for me, like when Quicksilver died to save the country of Sokovia, that was sad. However, there were some happy moments, like when they defeated Thor's brother, Loki or even Ultron. I'll give you guys the rundown of the new movie: after the events of "Avengers: Infinity War," Tony stark, a.k.a Iron Man, has no food or water and is drifting in space, attempting to send a message to his wife, Pepper Potts. In the meantime, the rest of the surviving Avengers, which include Thor, Captain America, Black Widow, and Bruce Banner, try to figure out a plan to stop the evil demigod, Thanos, and to get back all the people who suddenly disintegrated into thin air. "Infinity War" left everyone on the edge of their seats,  wondering if half the Earth' population (and the Avengers) really die or if they will come back. Why did Fury call Captain Marvel? Will she make an appearance in this movie? Audiences hope these questions are all answered in "Endgame" this summer.
Walt Disney Studios
 "Aladdin" – May 24, 2019
"Aladdin" originally premiered in 1992  and was a huge hit, especially in the Disney's Princesses category. This movie will star Will Smith as the Genie, Mena Massoud as Aladdin, and Naomi Scott as Princess Jasmine. The new and improved "Aladdin" sets out on the same journey as the original with a young man, Aladdin, making his way on a  journey that's filled with magic and mystery. While on his adventure, he discovers a lamp with a hectic but special surprise inside and a magical flying carpet. Aladdin rubs the lamp 3 times and BAM a Genie appears. The Genie is portrayed by Will Smith. Will Smith is such a good actor and should do an amazing job fulfilling this hilarious, crazy, and wild character. People say that the original movie is always better than the remake, but will the new "Aladdin" prove us wrong?
Pixar
"Toy Story 4" – June 21, 2019
Spoiler Warning for "Toy Story 3"
Many people my age grew up with the upsetting but still hilarious and exciting moments throughout the series. My heart broke when Andy had to go to college and he handed his toys off to Bonnie. So I'm pleased to announce there will be a 4th movie! This movie will feature Woody, Buzz Lightyear and the rest of the crew, as they go on an expedition with Bonnie and her new toy Forky, which is literally a fork.  While on their journey, they end up bumping into Bo Peep, who used to be apart of the crew and Woody's romantic interest. Bo was missing in the last movie because she was sold at the yard sale in "Toy Story 2". I always loved Bo Peep and I'm ecstatic that she is back!
Walt Disney Studios
"The Lion King" – July 19, 2019
Just like "Aladdin", the original "Lion King" is coming back to theaters in a new and improved way. James Earl Jones reprises his role as Mufasa, but the rest of the cast is new. "The Lion King" is set in the African Savanna where a new prince named Simba, is born. As everyone is in rejoice of the new king, some animals have another opinion, like Scar, Mufasa's brother, who wants to be king. I'm looking forward to this movie because it's more modern than the original animated one and maybe it will  will have even more details and scenes that weren't in the first movie.
"It: Chapter 2" – September 6, 2019
Spoiler Warning for "It: Chapter 1"
If you're into scary movies, this is the movie for you. I, on the other hand, would rather stay at home. Based on the Stephen King novel of the same name, "It" tells the story of seven young kids- William, Beverly, Benjamin, Richard, Edward, Michael, and Stanley- who take on their worst nightmare, Pennywise, the clown who comes out of the sewers every 27 years to prey on them. Most of them survive the summer in the first movie, but Pennywise is back 27 years later, and he will not go down without a fight.
Universal
"Fast & Furious Presents: Hobbs & Shaw" – August 2, 2019
If you follow "The Fast and the Furious" seires, you would know that agent of America's Diplomatic Security service Hobbs, played by Dwayne Johnson, and a former british military elite operative Shaw, played by Jason Statham, don't get along very well. They basically went head to head with one another, trying to kill each other back in "Furious 7". Hobbs and Shaw must figure out a way to work together and put their differences aside as a cyber-genetically enhanced villain named Brixton, played by Idris Elba, appears out of the shadows. Brixton takes ahold of a very dangerous weapon that could change humanity. I have watched all the movies in the series, and it's the characters' personalities, the action-packed scenes, and the awesome cars in the scenes that drives me to watch more and more of these movies.
Marvel Entertainment
"Spider-Man: Far from Home" – July 5, 2019
In my opinion, Spider-Man is the best superhero in the universe! There have been many sequels to and versions of the "Spider-Man" series, but this movie is a continuation of the recent 2017 movie, "Spider-Man: Homecoming". Spider-Man, played by Tom Holland, is enjoying his relaxing school trip with his friends to Europe when all of the sudden, Nick Fury shows up in his hotel room and tells him that a new enemy is on the rise. His name is Mysterio, played by Jake Gyllenhaal, and he is creating chaos throughout the continent. Who is this Mysterio and where did he come from?
20th Century Fox
"The New Mutants"- August 5, 2019
I know what you are thinking: "Oh yay! A new Teenage Mutant Ninja movie is coming out". Sorry to let you down, but this is the complete opposite. Based off the Marvel comic book of the same name, "The New Mutants" is actually a horror film in the X-men universe about a group of teenagers. Magik, Wolfsbane, and other teenagers develop new superpowers and need to learn how to control them while staying a secret in a haunted facility. This thrilling, fantastic, and action-packed movie should be one to enjoy if you're up for a scare.
Lionsgate Movies
"John Wick: Chapter 3- Parabellum"  – May 17, 2019
Personally, I never really got into the whole "John Wick" series, but I heard it's really good. It has to be good  for a third movie to come out, right? This summer, John Wick is back at it again when he is stuck in the Big Apple with a target on his back. A  $14 million contract put his life on the line as the world's top assassins have it out for him.
Sony Pictures Entertainment
"Men in Black: International"- June 14, 2019
Agent M (Tessa Thompson) is new to the Men in Black, a top-secret organization that monitors Earth's alien populations. Agent M ends up paired with Agent H (Chris Hemsworth), who is the best to ever wear "their black suit". As Agent M learns to adapt to how the organization works, they both discover a rat within the organization in London. Agent M & H learn how to work together with the high-tech weapons and cars that the organization provides for them, as they discover and defeat the mole in the organization.  
About the Writer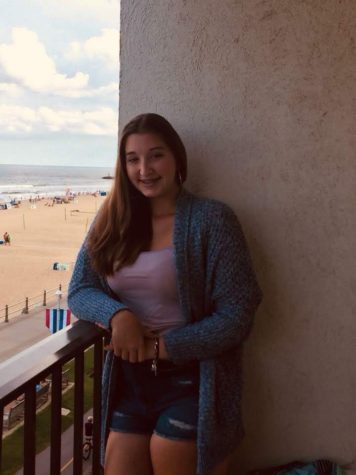 Gabrielle DeFrangesco, Editor-In-Chief
I am currently a Junior at NAHS and Editor-in-Chief for the Norristown Area High School newspaper, The Wingspan. I am the Captain of the Varsity Field...