As Robots Move into Retail, What Do They Mean for Our Jobs?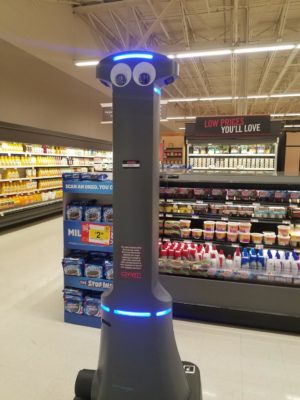 The world of technology has evolved in a way in which now we are using robots in classrooms, for construction, and for assisting in food stores. Giant Food Stores recently announced that over 172 stores (across 4 states: Pennsylvania, Maryland, Virginia, and West Virginia), will be using robots for assistance in different store departments such as produce, deli, meat, and others.
It all started with Marty, a tall grey robot with googly eyes. For the last year, Giant has been piloting Marty and the in-store robotic program at its Harrisburg and Carlisle locations. The robot is the result of a partnership between Ahold Delhaize USA services company Retail Business Services, Giant, and Jabil subsidiary Badger Technologies. Marty is designed to identify hazards such as liquids, powder, bulk-food-item spills, and he provides reporting that enables quick corrective actions. Marty also scans shelves for out of stock items.The main point of robot assistance is for the employees to spend more time and help the customers while reducing risks such as those caused by spilled foods. Additionally Marty also price checks for variation between the shelf and the store's scanning system.
As there are many positive aspects to this, there are also negative ones. If the robot assistant is a success and more are created, will it drive people out of employment?
Patrick Maturo, Giant stores optimization manager, reassured us that no employee will be replaced by this robot. "Because he is doing assistant work, Marty isn't replacing human jobs", Maturo told Pennlive.
Maturo's promise,however, may not be true. Robots are making their way into our careers and already making their marks. Pharmacist jobs, for instance, are going through this struggle–somewhat improving with robots taking over but giving fewer jobs to humans. The UCSF Medical Center recently installed a robotic-controlled pharmacy, where the robots receive the prescriptions, then pick, package and dispense individual doses of pills. The pharmacy system, over the past year, has prepared 350,000 doses of medication without any error. If this pharmacy system expands and creates more robots, there may be significantly fewer human pharmacist positions, as people already have started losing their jobs due to this.
What about store clerks? In order to save money, companies are looking for paths to sell more products with fewer employees. For example, Automated Teller Machines (ATMs)  reduce the need for bank tellers, virtual assistants can answer the phone 24/7, and self-checkout machines are replacing the need for checkout clerks.
Robots are our future, already putting a lot of people in different fields out of business and out of employment. Business owners and bosses like Maturo keep reassuring us that human jobs aren't going to replaced by robots. According to an article on www.express.co.uk, the WEF (World Economic Forum) stated that the current 29 percent of robots taking over a humans job will double by 2025.. It is also stated that 75 million humans will be put out of job as early as 2022. That's a lot of people, and it's only 2019; robot production is coming quick and fast.
Despite causing job losses, robots also help us and companies in many ways. Amazon, for instance, has used its robots as an advantage.The company added 55,000 robots in 2017, and the growth rate of producing products and than packaging them has increased heavily, shortening the time on how long the production takes. It's not hard to see the correlation between a decreasing amount of 24,000 human employees and a huge increase of 75,000 robot employees, proving yet again that the more robots produced, the more human jobs decrease. Amazon is increasing its investment on robotics and machines, leaving Amazon assuming that automation could represent 20% of the total employees by the end of 2017.
Mid June of 2018, Microsoft announced that it will be developing a system that will track what items shoppers put into their carts, which can terminate the use for cashiers. Walmart is replacing store cashiers with machines, such as Target, Kroger, Urban Outfitters and other major retail companies.
As more and more of our world develops new technologies, the need for human cashiers, retailers, etc. could possibly be eliminated. Robots aren't all bad in some cases; they can help us learn, shop, and construct, but what is the greater cost? Giant has already started importing its robot assistant. I'm not expecting the robots to take over the world and completely replace human labor, but job loss is something that we need to look out for. It's too early to tell whether Marty will be replacing labor, but it is definitely an example of a big change that has happened and will continue to grow.
About the Contributors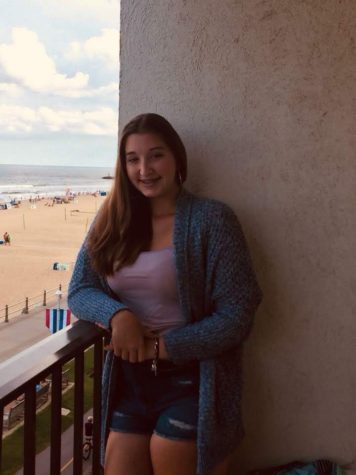 Gabrielle DeFrangesco, Editor-In-Chief
I am currently a Junior at NAHS and Editor-in-Chief for the Norristown Area High School newspaper, The Wingspan. I am the Captain of the Varsity Field...
Jonathan Eisen, adviser
I have been teaching at Norristown Area High School for six years, and this is my second year as the adviser for the Wingspan.  Along with the School...