Winter Sports Preview: Norristown Anticipates Indoor Success
As the weather starts to get colder, the seasons begin to change. This means school sports also transition from fall to winter. This year's winter sports include girls and boys basketball, bowling, swimming, wrestling, and winter track.
Athletes participating in winter sports have already began official practices last Friday, Nov. 16th. Most official games will begin Dec. 7, though the wrestling team featured its first match against Dowingtown East this past Saturday.  
Anthony Palladino, Norristown's Athletic Director, has confidence in this year's winter sports season. "I'm excited about all of the sports starting their season," he said. "Our athletes do well, show off their talents, and play with big crowds."
The athletes are giving it their all, as their practices are tough, but rewarding.
Valerie Tellez, a sophomore student on the track team, stated, "The tough practices are always worth it in the end because at the end of the day, I know by each practice, I am improving myself and getting stronger every day mentally and physically."
Although practices and sports can be hard, it is always better with supportive friends and teammates. "Everyone on the track team, especially on the distance side has been so welcoming to me, even when I  first started and had very few experiences in track and its events," Tellez said with a big smile,
At the start of the winter season, the swimming team will compete in a Relay Carnival, which is when a swim team attends a meet only consisting of relay, Dec. 7 at Upper Merion High School. . "It's fun, but it also helps us look out for competition," said Elijah Hildreth, sophomore, of the Carnival.
Major basketball events to look forward to during the winter season are the Girls Varsity contest against Springford on Dec. 11 and the Boys Varsity game against Methacton on Jan. 22.
Olivia Whitley, a freshman on the girls basketball team,  excitedly said, "I'm ready to watch the seniors play this year, because I've been working with them, and I see their potential."
When asked about upcoming basketball players on the boys basketball team, Whitley said, "Aaron Reddish is definitely a player to watch out for, and to see if he's taking after his brother, Cam Reddish."
Norristown will ultimately have a victory in winter sports, with all of the hard working athletes, who use their time and dedication to represent Norristown in the sports that they love.
"I do believe that they will be prepared," Palladino stated with confidence. "They have been practicing off season and working hard. The coaches have been getting them ready. They will be ready, whether it's the first tip off or first whistle blown."
Game schedules and further information about each team can be found by visiting https://norristownathletics.org/ 
About the Contributor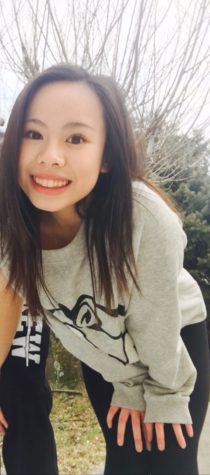 Christina Wong, Associate Editor
I am a junior at Norristown Area High School, and this is my third year of school publications. I enjoy taking naps and binge-watching shows. I hope you...