Norristown Actors Face Moment; 'Songs for a New World' Moves
Hang on for a minute...we're trying to find some more stories you might like.
Norristown's very own drama club made a story come alive as it performed the musical "Songs for a New World," directed by Damien Bucci, on the evenings of Nov. 9 and 10. Although Caleb Hayes fell ill and could not perform, cast members Rachel Poley and Tyjshier Hill stepped in admirably and perfected the musical for the audience.
"Songs for a New World" is a musical revue (a performance by which a story is told strictly thought a series of songs connected thematically) depicting the different hardships a person may face in life and their decisions to act when given the moment to do so  through both inspirational and gloomier songs, each conveying the range of emotions in such experiences.
The musical begins with an ensemble performance of the song, "The New World," which was about how the characters in the musical were ready to find a new life in America– a new world. The song began with solo verses beautifully performed by Cheyenne Thornton, Jackie Spengler, and Ayleen Alvarado, with the rest of the company joining in as the song progressed. It then transitioned into "On the Deck of a Spanish Sailing Ship, 1492." Hill sang a mini solo, while the actors and actresses in the background were shown to be working, like mopping the floor or scrubbing windows.  
As Norristown's population is quite diverse, made up of families from different backgrounds and countries, it felt as if the audience could relate to the struggles the immigrants portrayed in the musical, either directly or indirectly.
As "Songs for a New World" continues, the songs seemed to become more meaningful and relevant. For example, "I'm not Afraid of Anything," performed by Bryanna Skipwith, was sung from the perspective of a young girl who was ready to take on the world. As the song continued, Skipwith's character reassures herself that she is ready for a new adventure, but those reassurances could also be Skipwith's character lying to herself. Many people must feel the same way as Skipwith's character does when facing a life-changing moment.
Also, when Daisy Frias sang "Stars and the Moon," her singing illustrated a scene where a girl, who all of her life wanted fortune, finally got it, but never feel happy. She thought that money would make her life happier, but she was wrong.
Just like Act 1, Act 2 continues the theme of one hoping for a better life in an unfair world. "King of the World," which was performed by Allison Perry, depicts  a leader who protects other people's' lives, but was wrongfully locked up. Her song hit home, as in today's society, it's getting harder to stand up for your freedom, as there is a lot of hate in the world. When Perry sang, "Why am I sitting in this cell? I was not challenging the system. I was working for the people. I just wanted to be better," I thought of how just like Perry's character, there are people right now, imprisoned for standing up to the government and making their voice heard. As the song continues, Perry's character seems to develop faith in justice and in herself, but come the song's end, her voice starts to stutter: "I'm king of the world. I'm… I'm… At least I used to be."
The final number, "Hear My Song," began as a solo by Nalise Mayer and was later accompanied by Skipwith and Thornton. As the song progressed, it became an ensemble piece, as all of the actors and actresses sang their hearts out. During the last seconds of the song, they stood in a v-formation. The lights dimmed, and the musical was over.
Norristown's performance of "Songs for a New World" was as moving as the Spanish ship in 1492.  The musical gave the audience a depiction of how everyone in America suffers, and how as each person is different, their struggles and concerns are different as well. The one thing that all of the characters had in common was the hope that they had in their future lives. The hope could have been freedom or riches, but in the end, the characters struggle just as we do to find what some may call the "American Dream."

About the Writer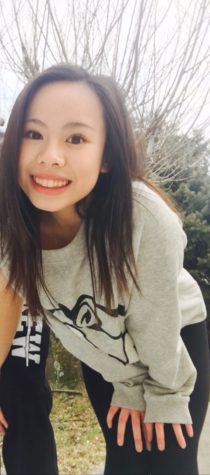 Christina Wong, Staff Reporter
I am a tenth grader at Norristown Area High School, and this is my second year of school publications. I enjoy taking naps and binge watching shows. I...