Norristown Brothers Tee Off at Regional Championships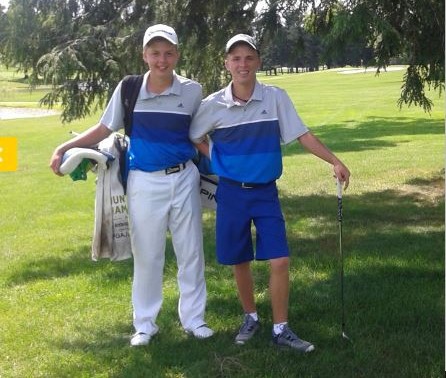 Duyen To, Associate Editor
October 15, 2018
Two Norristown brothers are heading to regional golf championships today, and most students at Norristown Area High School have never heard of them! Caleb and Josh Ryan, both home-schooled, have played golf ever since they were two years old. Now each is on his way to one of the highest levels of high school sports.
Both brothers plan to play professionally after college.
"That's the goal for right now," Caleb said. "The next step for me is to play college golf. We both are on the way to do that, as well as talk to golf coaches."
Josh added, "Going professional is the goal. Four years of high school golf will definitely help me improve."
Throughout their years of golf, the two have stayed motivated by looking up to their role models. "My big role model is Tiger Woods. He got me into the games, just by watching him play. He is my main role model," said Caleb.
Josh's role models are his practice partner, Ricki, as well as older brother, Caleb. "[Caleb] has helped me in professional games," Josh said. "Ricki has helped me improve with practice in many ways. Also, I like the way he dresses." Their role models have made a huge impact to their golfing careers, helping each golfer them push towards their goals to the championships.
Last year, the Norristown Golf team made their way to the state championships. Now the team is on its way to the regional championships with hopes of reaching states again. 
"We are very excited; we're ready to go [to regionals]," Caleb said. "We both made it our goal, to be able to go to the state championships. Hopefully we get to stage three." 
"It was nice doing districts," Josh added. "I'm relieved we got through, but we have to keep our heads down, throw numbers, get through, and get a win." 
Without wins there are faults, and without faults there are wins. For Caleb and Josh, the two have had their ups and downs during their years in golf. The two have improved tremendously, but there is always something to improve on. 
"I need to improve on my short range putting, and hopefully it has been improved well enough so I can play well on Monday" Caleb said.
Josh's Achilles heal is just as internal as it is structural. "Crying," Josh said of his greatest weakness. "I have to control my emotions, but besides that, I need to not capitalize on putting. I need to work on my birdies, (par but short, for example, 2 out of 3 would be a birdie). I also need to work on my streaks."
Both brothers discussed how success has been their favorite part of their golfing career.   "Getting [to state championships] has helped me out for the past two years," Caleb said. "Besides my confidence, I have advanced in golf. This will help me a lot with success. That has been the best part of my golfing career." 
"Getting into states as well has helped me," Josh added. "It has helped me with my confidence, and going through the last few days, it has been a great experience."
Although the two brothers put in a lot of work, neither believes his own success is something he has achieved alone. 
"Without coach Morris and the team, we wouldn't be where we are today," Caleb said. "It has been a great year, and we hope our amazing team makes it to states again!"