Twinkie History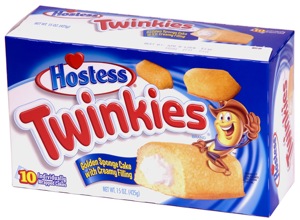 The beauty, smell, and taste of a Twinkie may just make someone go nuts. Have you ever wondered how Twinkies were made and where came from? What makes a Twinkie a Twinkie? What's inside the golden cake that makes it taste so good?
Twinkies go way back during the era of the great depression, almost 80 years ago. Around the 1930s, continental bakeries sold baked snacks under the hostess brand name. Many of the snacks were seasonal with fruit filling. In time hostess snacks where getting old and not appealing to the general public. To improve efficiency James Dewar the company's vice president decide to create a new snack with the equipment the company already had. James's idea was a simple sponge cake with a flavored cream filling. On his way to a marketing event James notice an advertising billboard that had the name twinkle toe shoes, James decide to change the name around and thus the Twinkie were born. Twinkies were a big hit. People loved the golden cake filled with cream filling, but when things seem to look promising things start to fall apart.
There was a problem Twinkies only lasted two days in shelves. James had his salesman resupply the selves every other day but it was expensive to keep doing that practice, James needed a new way to make Twinkies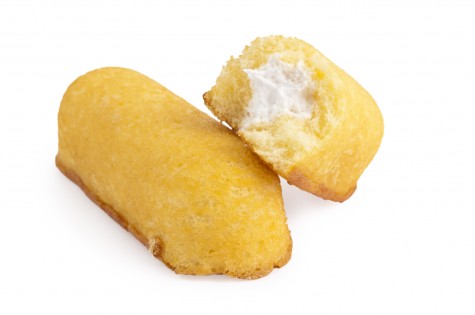 last longer. Soon enough James found a way to make the Twinkies last longer by switching some of the basic ingredients, now the life span of a Twinkie is 25 days. As life went on Twinkies were made, Twinkies were sold and Twinkies were consumed, but yet again all good things must came to an end. In 2012 hostess filed for bankruptcy, the company had been struggling under a weight of an 860 million debt load and soring expenses tied to its labor and thus the Twinkie come to an end. In 2013 though Twinkies made a triumphed return and the Twinkie universe once again was restored to its former glory.
Fun Fact: the original Twinkie was filled with banana cream filing but in World War II there was a banana shortage and villa become the standard flavor.