Winter Pep Rally Sets a New Standard for Spirit Events at NAHS
Hang on for a minute...we're trying to find some more stories you might like.
The Blue and White Society, under the direction of Madame Shahin and Mrs. Bartlett, outdid even their own previous work in organizing the Winter Pep Rally.  No one would have known that it was a drab rainy Friday morning inside the gymnasium of Norristown Area High School as we eek towards the last days of winter on February 23, 2018.
As students entered the gymnasium some were still applying tatoos to cheeks while faculty members involved were coordinating where to put their blue bandanas or beads.  After a brief and energetic introduction by Principal Roth, the crowds were orderly and attentive while the colors were presented by JROTC and the Select Choir sang the National Anthem with precision and expertise under the guidance of Mrs. Danoff.
With recognition to our JROTC cadettes who are heading to competition, Kyler Robinson-Puleo (12) and Kennedie Licwinko (12) stepped into their roles as the MCs of this spirited morning.  To get things moving, the NAHS Dance Team pumped up the crowd with a melody of numbers incorporating a variety of student combinations.   As always, the dancers were a hit with the crowds and got them clapping, dancing, and singing in the stands as their sponsor, Mrs. Gill cheered them on from her nursing post in the front of the gym.
Unsuspecting students received tickets upon their entry to the gym and soon found themselves in the midst of Tic-Tac-Toe and Ball-Walking competitions along with a few other volunteers.  There is no doubt the competition was fierce between our students who "bleed blue and white", but the students were good sports and most left the floor happy that they had a chance to participate.
While the newly formed NAHS Step Team seemed to be a small crew, they truly brought down the house!  The co-ed group includes freshman through seniors and uses collaborative choreography, giving all team members a chance to coordinate the routine.  They have been practicing for this debut under the leadership of Ms. Garman.  For many onlookers, this step team was a welcome performance with reminiscance of Miss Nancy's Elegant Steppers from years ago, and many more hope to see the team grow and perform again and again.
NAHS has made a tradition in recent years of inviting faculty to participate in Spirit Rallies as well and this event was no different.   Four spirited teachers, Mrs. Glaeser, Mrs. Dampf, Mrs. Davis, and Mrs. Perozzi joined the steppers to show that rhythm is not solely for the youth.
Then, in a suprise exhibition of athletic prowess administrators and teachers took to the floor ready to battle students in a game of floor hockey.  Not only did the adults leave the floor with a victory and no penalties, despite the fact that it occassionally turned into handball, but Mr. Roth added in some "Lean Back" moves as he manned the sideline of the gym. (Yes, that's right Mr. Roth we captured it all.)  Mrs. Glaeser through herself, literally, into manning goal as Mr. Elias took every opportunity to make the game more challanging for the first and second round of students. That's right, the students had to switch in a full roster of subs at a brief half time while most of the adults played a full game.  Mr. Corcoran and Mr. McKown worked seemlessly to provide an offense while Ms. Garman, Mr. Stein, and Mrs. Malkasian created a line of defense that was quite the challenge.  All in all, there was plenty of laughter, maybe a few cheap shots (Mr. Elias, we saw you move that dropped stick), good sportsmanship, and a lot of school spirit.

About the Writer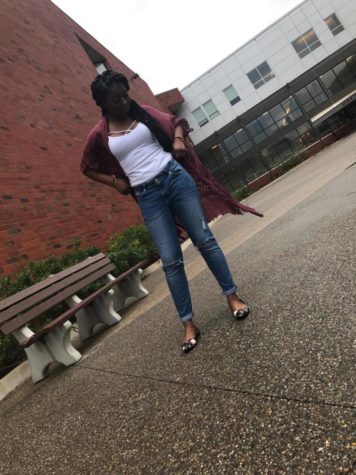 LaBrea Johnson, Associate Editor
I'm in the 11th grade here at NAHS. When I'm not I school I'm usually either at work or in my bed napping. In my free time I like to hang out with my friends.

Since...