Rihanna Expands the Shades of Success with Fenty Beauty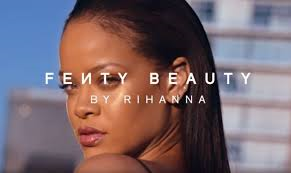 Many of you may know of Rihanna as the singer or even the face of Fenty slides and sneakers by Puma, which she released not too long ago. Recently Rihanna expanded her prowess with Sephora called Fenty Beauty. The Fenty Beauty make-up is hyper-focused on complexion.
Unfortunately she did not release any new eye shadows, eyeliners, mascaras, or even lipsticks. Rihanna wanted to focus her line strictly on skin tone and shine. In her make-up line she created a 3-step make-up routine for everyone! Starting with step 1 the amazing foundation that includes 40 different shades from light to dark. Step 2 adds the classic Rihanna shine with an amazing spotlight-worthy highlighter. There are also 30 match stix for the girls who don't like glitter. 20 out of the 30 can be used for more than one thing. The amazing shimmer stick can be used as a blush, highlighter or even lipstick. As for step 3, she could not forget about the blot! Step 3 consists of a translucent powder that blends great with all types of skin.
Rihanna is doing an outstanding job with her new make-up launch. She was able to cover all shades light and dark. she also was sure to include make-up products that can be used for multiple things. In fact "It's one of the largest beauty launches in recent history, and one of the most hotly anticipated." said Jenna Rosenstein. anyone who is into beauty and make-up must schedule a stop by Sephora to purchase the new Rihanna Fenty Beauty make-up!