King of Prussia mall expansion
While there has been an ongoing battle of "which is bigger" between the Mall of America in Bloomington, Minnesota and the King of Prussia (KoP) Mall over the past several years, it seems that KoP will definitely be the largest mall on the east coast as of August 2017 (visitphilly.com).
Due to the expansion that started in early 2015 an additional 155,000 square-feet will be included in the mall. Officials mention that when the project is finished, King of Prussia's retail footprint will total to 2.86 million square feet, and include 50 new stores and 13 new eateries (C. Woodall, pennlive.com).
One of the many highlights of the expansion is the permanent, enclosed connection between the plaza and the court sides of the mall in the form of a bridge. This passway also includes many new high-end stores that add to the Simon Mall's expansion such as Louis Vuitton, Hermes, MCM, and etc. the bridge also includes a new, smaller food court called "Savor King of Prussia" with new places to eat such as Hai Street Kitchen & Co., Shake Shack and Sweetgreen (D.Gleiter, pennlive.com). For the convenience of shoppers and diners, there are also lounges and seating areas equipped with charger stations within Savor. This should come in handy to shoppers and tourists walking around the expansive mall all day. Shoppers can also take advantage of the concierge service available to help them find sales interesting to them specifically, or make reservations throughout the mall. (pennlive.com)
Another element of the expansion is the new parking garage that is in-between the old Court side and the Plaza. The new parking lot offers valet parking, and more levels than the previous garage with 1,100 additional spaces. (pennlive.com)
In order to make this project happen, Davis Contis, President of Simon Malls Property Group, explains that a parking deck had to be teared down, and three department stores had to be connected, which was not an easy undertaking. Overall, Contis wanted to create a place around two basic truths: people like to be social and like to eat. The vision for the project is to offer an experience that cannot be replicated on the internet.
The new and improved King of Prussia Mall is sure to wow customers when it opens its doors on August 18, 2017, just in time for some back-to-school shopping.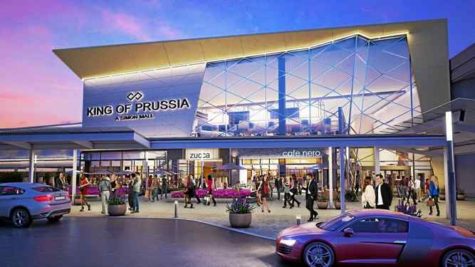 By 21st Century Media Staff