Everything You Need To Know About Snapchat's New Privacy Policy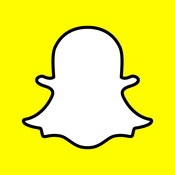 Snapchat's recent update of their privacy policy is causing chaos in the social media world. Many are concerned that these new updates to the policy are an invasion of privacy. Here's what you need to know.
What does the policy say?
The Snapchat Terms of Service stated that, "You grant Snapchat a world-wide, perpetual, royalty-free, sublicensable, and transferable license to host, store, use, display, reproduce, modify, adapt, edit, publish, create derivative works from, publicly perform, broadcast, distribute, syndicate, promote, exhibit, and publicly display that content in any form and in any and all media or distribution methods,". They have access to information about your usage of the app, the content you send and receive, and the device you're using. The app has access to your phone book, camera, photos, and locations with the user's permission. Snapchat uses "cookies", a program that accesses your web browser history, in order to gather as much information about their customers as possible.
Where does my stuff go?
Snapchat makes it clear that once the designated time attached to a snapchat is up, the photo is deleted, however, here are some loopholes to this. In the recent policy snapchat said, "in many cases the messages sent through our service are automatically deleted" and go on to explain this by again saying " in most cases".  AKA your photos aren't always deleted. When you snapchat you are allowing the company to use your photos for themselves. They are able to save them and use them however they want. Your photos aren't guaranteed to be considered private property.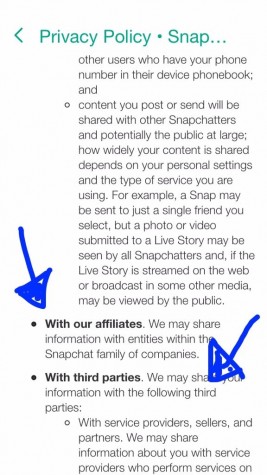 What do they do with my information?
Snapchat's main use of your information is to improve their app. They analyse trends, enhance services, develop new products, communicate with you, and much more. They share information such as your name, snapchat "score", and your snapchat story because it makes the app fun! They give your information to third parties in order to handle the things that come with owning a business. Yes, snapchat is a business.
Why did they change it?
Snapchat has stated that the policies haven't changed much, they were only rewritten. They rewrote these terms in order to "humanize" the policy and make it easier to read and understand. They had good intentions when they updated it, saying "we've tried to write it in a way that's blissfully free of the legalese that often clouds these documents". They attempted to make the policy read as if people speak, allowing their customers to easily get information about their company.
Should I keep snapchat?
If you choose to delete snapchat based on the app's new policy you should delete the other social media apps you use as well. Snapchat is the one in the spotlight because they are the ones vocalizing their information. They made it very clear what they are doing while most companies keep that hidden. Snapchat ultimately made these changes so their customers get the most out of the app, they don't want to invade your privacy. If you are against social media and want to be off the grid, delete snapchat. But if you enjoy twitter, Instagram, internet explorer, apple products, and almost all other technology these days, keep the app. Snapchat isn't doing anything different from everyone else in the app industry besides being honest with their customers.