NAHS Alum Elayna Mae Darcy Shoots for the Stars with Published YA Novel
From the halls of NAHS to the keys on their computer, writer and alum Elayna Mae Darcy (she/they) has found their passion in the craft of storytelling. They dabble in all sorts of creative media, including films, podcasts, novels, and poetry, with everything they do "coming back to stories in the end." 
Their most recent work, "Still the Stars", was released on Nov. 1, 2022. The novel follows a young girl who has to find the family she has lost in a world she barely knows, recalling all of her adventures and discoveries to open up an extravagant tale of cosmic proportions.
Before they graduated from NAHS in 2003, Darcy greatly involved themself in the world of media production, writing for The Wingspan and working in telecommunications, or what we would call Video Production. They loved writing about movies and other topics that were considered "niche" in the late 2000s.
 "You were weird if you were into those sort of things," Darcy said. In their senior year, they took a telecommunications class and learned more about the world of working in film which helped spur them into pursuing a filmmaking major in college.
Ever since they were younger, Darcy had the concept for "Still the Stars" figured out — they came up with a character named Piper Anderson, the universe she lived in, and the fantastic space adventures she would go on. However, for a majority of their life, it was put on the back burner of their mind as they thought more of other concepts.
In 2015, they traveled abroad for the first time to Scotland on the hunt for some inspiration and inner peace. They were at a huge roadblock after their partner in a major book writing project made the decision to step back and let the idea simmer on their own. 
"He was like, 'well, you have that one idea that you've been talking about literally since way before I met you- You've had it since you were in middle school. Why don't you work on that?'" Darcy recalled.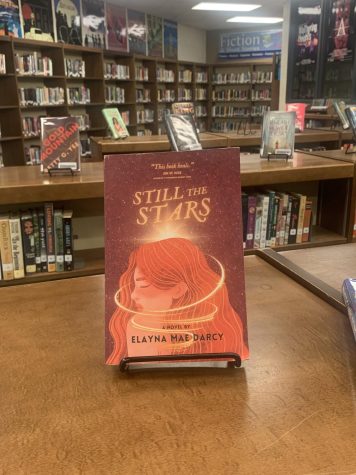 Darcy had been pondering over what to do with this concept while on the trip, unsure of what to do with the protagonist. While looking for gifts for the friend that helped them pay for the trip, they stumbled upon some Scottish clan pins with last names on them, but something caught their eye before they found what they were looking for. 
"There was literally one that said 'Piper,' and underneath that, there was one that said 'Anderson,'" Darcy said, which set their plan to write "Still the Stars" in motion. 
Darcy describes "Still the Stars" as a "queer, YA space novel" about a young girl who needs to go on an "intergalactic quest back to the homeworld she never knew" in order to find her parents. The novel is written almost entirely in verse (poetry), with Darcy's lead inspiration for the format coming from author Elizabeth Acevedo and her novel "The Poet X."
"As cheesy as it sounds, it's very much a book about learning to kind of love yourself for who you are and where you're at in your life," Darcy explained. "[Piper] has a lot of anxiety and a lot of depression that she struggles with, and she has people around her that are very supportive of her, and I know for me, that was something I really wanted to see more of in fiction."
Darcy hopes to extend the universe of "Still the Stars," as this is only the first entry of the "Oreanam Trilogy" they have planned. Their major dream is to someday return to the realm of filmmaking, seeing as it is a major commitment that requires plenty of hard work, dedication, and money in order to bring a film into fruition.
As Darcy's experience in the storytelling scene expands further, they always shoot for the stars and hope other young writers can do the same. "If you love it now, keep that passion for it," Darcy shared. "Find whatever way you can to keep the joy in the writing, and just keep doing it even if you have people that are discouraging around you."