NAHS's First Annual Mini-THON : Honor Society Students Raise Funds for Children with Cancer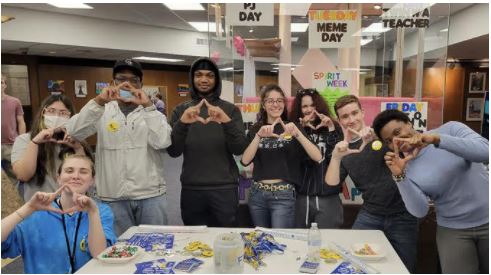 Tens of thousands of students in Pennsylvania are standing up to childhood cancer, and NAHS students should be no exception.  Mr. Steve Dinenno, Ms. Kirstin Colloton, and our National Honor Society officers and their committees have teamed up with the non-profit organization Four Diamonds to beat childhood cancer by participating in a fundraiser and organizing the first annual Mini-THON this Fri.  April 1 at the NAHS gymnasium.
Since the Mini-THON program began in 1993, Four Diamonds has helped more than 4,800 children and families battling cancer and has funded thousands of hours of research to find a cure. During the 2020-2021 school year, Pennsylvania schools raised more than $2.8 million for Four Diamonds.
Mini-THON is a Four Diamonds program coordinated by students from schools in Pennsylvania. Interactive multi-hour events engage thousands of students each year and raise money to benefit Four Diamonds, which helps families with children receiving cancer treatment at Penn State Health Children's Hospital in Hershey, PA
How are collections made? 
Fundraisers have been carried out all year at NAHS, including activities such as stall day and hoagie and t-shirt sales, as well as raising money during Mr. Norristown's recent celebration, where a major fundraiser was made possible thanks to the help of some of the NHS members.
However, the biggest source of money has been through the Four Diamonds Donor Drive program, an online donation system where Honor Society students have individual pages they promote on their social media pages.       
"All the money raised through Donor Drive goes directly to Four Diamonds," Mr. Dinenno said. "To date, honor society members have raised more than $3300 in this way."
The proposed goal that NHS members, us as a school, and the Norristown community, have is $10,000. They need your support to be able to break the record proposed in this first fundraiser, which will go to Four Diamonds at Penn State Children's Hospital, helping in the fight against childhood cancer.
Where does Mini-THON come from?
Inspired by the Penn State Dance Marathon (THON), Mini-THON is a dance party celebration that is similar to the largest THON event held each year on the main campus of Penn State University. Therefore, several schools in our area organize Mini-THON during the school year. 
"I'm a PSU graduate and I loved my time participating in THON," Ms. Colloton said. "While I was at PSU, our sisterhood of servicewomen sponsored a girl named Madison whose chemotherapy curls were just beginning in February."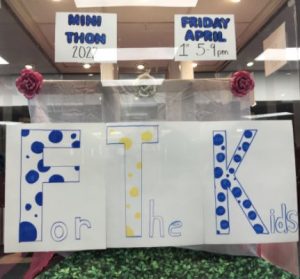 "Mini-THON is a branch of THON, which is the largest student philanthropy in the world," Ms. Colloton said again. "It's pretty impressive to have this right here in Pennsylvania!"
Four Diamonds Mini-THON are interactive events for students of all ages who inspire teamwork, leadership, and creativity while empowering youth and young adults through philanthropy and community service in the fight to beat childhood cancer.
"The mission of Four Diamonds and the Mini-THON seemed to fit us perfectly," Mr. Dinenno said. "When we first suggested this idea two years ago, Honor Society members saw the great need to work to serve those in need."
 "Something that inspires me is my family, since I was a child they told me to do what makes me happy and help people, Mini-THON does both," said NHS officer Esined Martinez-Torres. "I know that many people need help in these times and I want to help in whatever way I can."
When will the Mini-THON take place and what is expected?
Norristown High School's Mini-THON will be held on Friday, April 1 from 5:00 pm to 9:00 pm in the school's gym and cafeteria. The event is a great dance party with games, food, and activities. We will have performances by NAHS Cheerleaders, NAHS Drumline, NAHS Step Team, NAHS Latin Dancers, and many others. There will be a DJ with live music, photos by the photography club, and face painting by members of the NAHS Art Honor Society. 
"The event is full of a lot of things to do, including DJ Pooda DJing the event, so it really is something that everyone should try to attend," said Mini-THON chair Layla Chaaraoui.
"Many other schools organize this event and it would be great to start the tradition in our own school," said NHS president Maddie Plummer. "The goal is to attract as many people as possible, honestly, I think it will be a great night."
"I'm so excited about the Mini-THON! This is Norristown's first Mini-THON, which is a smaller version of Penn State's THON," Chaaraoui said. "After 2 years of COVID disrupting our opportunity to make a Mini-Thon, I'm so excited for it to finally take off!"
NAHS will hold its first annual Mini-THON this Friday, April 1.
In order to show support, Spirit week kicks off today, March 28 with a week of Mini-THON spirit: Monday; Pajama Day, Tuesday; Character Day, Wednesday; Twin with a Teacher Day, Thursday; Tie-Dye Day, and Friday; Blue and gold day, NHS members invite you to participate by showing affection for this cause.
"Members of the National Honor Society have worked very hard over the past few months in planning this event, another important person is Ms. Colloton, who has worked tirelessly to help put things together for the event," Mr. Dinenno said. "We've also received help from Norristown teachers, staff, and parents throughout the district, it's really become a community event and I hope it goes well."
"The NAHS National Honor Society has been working for the past few months and weeks to host our first annual Mini-THON," Ms. Colloton said. "The event is organized mainly through donations, so the cost of organizing this event is minimal."
NHS members expect you to attend, and appreciate all the support received from the school, students, teachers, staff, and community, Mini-THON would not be possible without you, and the support you receive is the best part of being organized.