Nicki Minaj is Problematic and We Can't Keep Supporting Her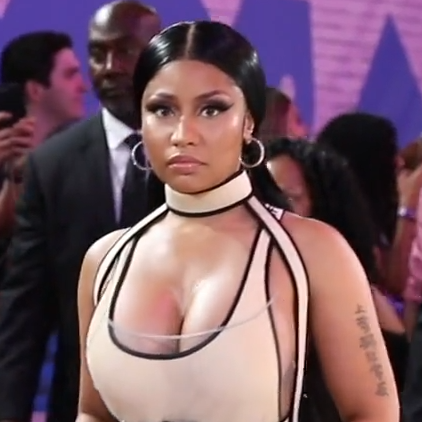 Throughout the 2010s, famous New York rapper Nicki Minaj was seen as either problematic or iconic. One example is her music video for her hit song "Anaconda," which was seen as either an inappropriate or a feminist music video. But now the "Queen of Rap" is also the "Queen of Being Problematic." Now don't get me wrong, I used to love Nicki Minaj, but as of recently, I haven't. So please, I beg all BARBZ, aka Nicki's fanbase, before coming at me on stan Twitter, just hear me out because Nicki is now a huge part of what is wrong with the entertainment industry.
For starters, last Oct., former Little Mix member, Jesy Nelson, who left the British girl group in Dec. 2020, released her first-ever solo project. Her first work as a solo artist consisted of a song called "Boyz" and a collaboration with Nicki Minaj. However, once the music video for "Boyz" was released, it caused a huge controversy. Why? Because of the blackfishing going on in the music video. If you don't know what blackfishing is, blackfishing is pretending to be Black.
This has offended many people. But it's safe to say that it didn't affect Nicki Minaj. In fact, on Oct. 11, Nicki came to her rescue during an Instagram Live, which Jesy herself was also a part of. On this live show, they both talked about the blackfishing and alleged direct messages (DM's) that were leaked between Little mix member Leigh- Anne and TikToker @NoHun, in which Leigh wanted the media to know about Jesy's blackfishing past as well as about Jesy being a bully.
Right off the bat, Nicki already ruined her reputation. She indicates that the DMs were only leaked to hurt Jesy in her new career, saying "Don't wait a decade after you've made millions with the person." When discussing the blackfishing issue, Nicki said "It's a lot of women out here in the united states that tan, get bigger lips, get all types of stuff done. I wear blonde wings and no one says anything."
Nicki is also problematic because when it came to talking about the vaccine, she basically stated that she's an antivax. Hints why this isn't the first time where I or the media have had a problem with Nicki.
Nicki tweeted: "They want you to get vaccinated for the Met. If I get vaccinated it won't be for the Met. It'll be once I feel I've done enough research. I'm working on that now. In the meantime my loves, be safe. Wear the mask with 2 strings that grip your head & face. Not those lose one." She faced a lot of backlash for this tweet because by the time the Met Gala 2021 happened, the vaccine was already proving to work, which led people to believe she was against the vaccine. On top of that many people believed she was spreading misinformation.
Another reason Nicki is problematic is that she defended two well-known convicted sex offenders. The first instance was with her husband, Kenneth Petty. Petty has been a registered sex offender since 1995, for which he spent 18- 15 months in prison. It was said that Petty and Jennifer Hough were both in a relationship and 15-16 years of age when they had a sexual encounter. However, as of Sept. 2021, Hough has come out and said that she and Petty were not in a relationship and that the sexual assault happened on the first day they met. He's also been convicted of manslaughter in 2002, this time spending 10 months in prison.
But Nicki has come to his rescue with one of her claims: "He was 15, she was 16….in a relationship. But go awf intranet." Of course, this is more problematic because not only is she lying but she's also indicating that even if they were in a relationship, Hough can't be a victim of assault.
Still, to this day Petty is a registered NYC sex offender. Recently, he went to a virtual court hearing in California, where Nicki and Petty currently live. He went to this hearing because in Nov. 2019, he was stopped at a red light by the LAPD as he failed to submit his sex offender status. Although he was let go due to a $200,000 fine the case is still open because Hough filed a lawsuit against both of them. Hough states that Nicki's team tried to offer her $500,000 if she said the sexual assault didn't happen!
This isn't the first time she has defended a registered sex offender. In 2018 and just last year she collaborated with rapper 6ix9ine. In 2015, 6ixi9ine was sentenced to jail after admitting to sexually assaulting a 13-year-old girl meanwhile at the time of the rape he was 18. Once again Nicki does not seem to care. Her response: " The reason ("FEFE") drew my interest was not because 6ixi9nie was popular, its because it reminded me of "slumber party" by Gucci Mane." Shout out to my baby Tekashi. I love him." Once again problematic because she didn't even address the fact that she is supporting Tekashi, and by not giving a clear answer, this makes people think she supports offenders of sexual assault.
In conclusion, let's just stan 2011-2017 Nicki, when she was just known for her awesome music.