'All Together Now' Made Me a Fan of Musicals
Having a song stuck in your head for hours on end is the actual worst. Subconsciously singing the same lyric over and over. This is exactly what the "All Together Now" Musical Revue did to me.
Each song was catchier than the last. I'm surprised I'd never heard any of these songs before  Friday, Nov. 12, when Norristown students premiered the musical. Except  "Let it Go" of course.  
Assembled by Damien Bucci, the head of Norristown's theater program, the musical revue, which is more like a theatrical concert,  covered a variety of songs that all previously featured in major hit musicals  like "Les Misérable" and "Once on This Island."
But each songs' performance was great! It was great to hear songs from musicals I'd heard of but never seen, like "The Newsies," "High School Musical" and "Mamma Mia," which really made the experience that much better!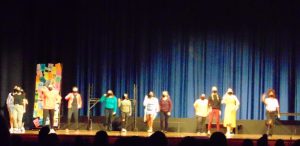 The performance of "Seize the Day" (from "The Newsies")  might've been the song that stole the show, though. The vocals from all performers were impeccable! It was sung perfectly and the "acting" performances were 10/10! During this performance, the performers acted out a scene where one person takes a stand and persuades the others to try and revolutionize the biz'. As the song plays on, it feels like I'm watching a mini-movie.
Another song that really stood out was "Take a Chance on Me" ("Mamma Mia")  had a very light-hearted and friendly performance in which the cast performed a  wedding.  I didn't know at the time that this connected to the actual musical, but it was still pretty amusing to watch. 
During the cast's performance of the iconic "Let it Go," the crew introduced a fog machine! In my opinion, adding an effect like this really impacted the show for the better. Throughout the entirety of the show, each performer hit every high note and sang perfectly (which is to be expected from the talented Norristown performers). 
To be honest,  I went into the show not caring at all about musicals, but I  came out ready to watch dozens more! The experience of the show honestly changed my perspective on the way I see musicals . . .  and I'm not just saying that to say that. I genuinely think so.
 Everything from the lights to the sound, and obviously the performances themselves, were truly S tier. There were some times where the audio was a little buggy and the lights sometimes blinded you with how sudden it got turned on, but overall it was a very enjoyable experience, and I'm thrilled to see the many more plays/musicals the theater program has to offer!