'Town Hoops Star Willie Anderson Strives for Greatness
Willie Anderson was just a six-year-old when he was first introduced to the game of basketball.  From the baseball field to the football field, and then later on to the track, Anderson finally found that the basketball court really settled in as a home.  It was during his seventh-grade season at Eisenhower Science and Technology Leadership Academy that he began to realize that basketball was truly for him.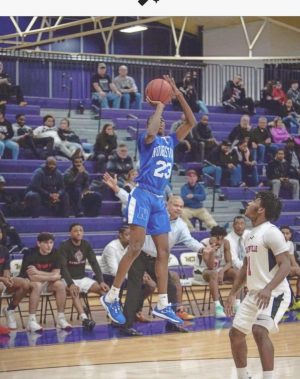 Most fans of Norristown Basketball view Anderson as "the chosen one." His unique talent at the defensive end, his automatic mid-range jumper, and his stellar basketball IQ coming into high school carried him to become a varsity player as just a freshman, a very uncommon feat.  Just as he began to take basketball seriously, he was already in Coach Binky Johnson's sights as a very prominent prospect. Johnson sees Anderson as a rising prospect for the 2021 college recruiting class if he continues to work hard. "Willie [Anderson] has a huge upside if he dedicates this offseason to getting stronger and more explosive," Johnson said.
Anderson's work ethic made him stand out to the coaches. He was always doing extra work and going hard on every rep, leading by example.  "I was working harder than everyone, and I had good defense," Anderson said. "I am constantly working out, whether it is by myself or with my teammates."  He also watches basketball highlights and mixtapes on Youtube to learn the game more when he's not pushing his body.
Willie's parents are his biggest driving force as a player and a young man.  "They always told me to go hard, never go half on anything, give it 100%. I give it all to my parents," Anderson said.
He also gives credit to his former teammates who have since graduated.  "Those guys taught me a lot. Especially X [Xavier Edwards], Tyler [Lyons], and Mickeel [Allen]. They always gave me tips on how to get better and told me how much they believed in me. They made me the player I am today.  They pushed me with constructive criticism and made me go harder on the court."
"
If you don't see results right away, then be patient, they will come. Don't worry about what anyone else is doing. Just worry about yourself and you'll be good."
— Willie Anderson
After being in the background for the past couple of years and learning so much, Anderson is getting closer to reaching his full potential.  As a junior, he is having a breakout season with big games, such as 23 points against Methacton and 18 points against Upper Merion. Coach Johnson said of Anderson, "Over the past two seasons, he has coveted the role as the sixth man and the defensive stopper.  This season Willie has been inserted into the starting lineup. In that lineup, he is now the fifth-leading scorer in the PAC."
As much as the team appreciates his play on the court, he is well-liked off the court as well.  Sharing a couple laughs with him during the interview, I found Anderson to be a very goofy individual.  For as long as I've known him, he's always been a jokester and seems to find fun in everything. "Willie is very well-liked because of his playful personality," said Johnson.  You'll catch him cracking jokes here and there or even laughing while dancing during pregame warmups."
The junior captain has had his fair share of ups and downs throughout the season but continues to persevere.  Despite big losses to Germantown Academy and Malvern Preparatory School at the Play by Play Classic halfway through the season, he continues to play hard and bring positive energy.
"I am playing good, but I feel like I could do better because we have some losses that aren't looking good," said Anderson.  "Even though I feel like I am having a good season, it's not just about me, it's a team. We have to work and play harder."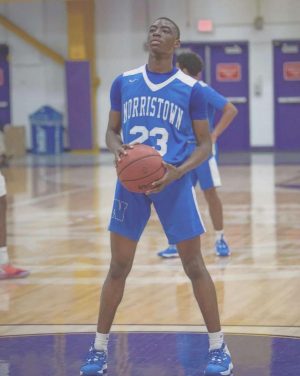 Anderson is maturing more on the court and allowing the game to come to him. He said, "When I was a freshman and sophomore, I was getting rushed and sped up since I was getting used to varsity basketball; now I am starting to take my time and everything seems to be slowing down for me on the court."
Every game counts even more from here on out as his team is battling to keep their playoff hopes alive. Anderson's biggest individual goal for the season is to become PAC Player of the Year and make the All-League First Team for the PAC as well.
At the end of high school, Anderson wants to continue to follow his basketball dreams. "I want a D1 scholarship. I will feel like all of my hard work in high school has paid off once I receive one from a division one basketball program," said Anderson.  In college, he wants to study something in the business field such as Business Finance or Marketing.
Anderson insists that you should never give up on something you love.  "When you're working out or just perfecting your craft, trust me you will see results.  If you don't see results right away, then be patient, they will come. Don't worry about what anyone else is doing. Just worry about yourself and you'll be good," he said.  He would like to leave everyone with the same mentality that his parents gave him and that is "always give 100% effort, never less. Keep working hard, going all out and you'll be on top one day."