Dawson and Star Clean Up Palettes for New Makeup Collection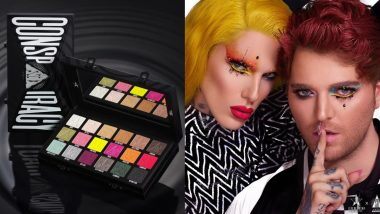 In times like today when the Internet makes everything permanent, it can be difficult to really believe in building a good reputation once you make a dire mistake. Shane Dawson and Jeffree Star, on the other hand, prove that some people still have faith in the evolution of a person's character with the launch of the Jeffree Star X Shane Dawson collection. 
Both influencers have a past of publicly making racist comments and other forms of derogatory actions that have had a negative toll on their reputations. Jeffree Star, for years, has been an easy target for other influencers to feud with because of his outspoken and blunt nature. With the following Star has accumulated and the impact of his word, brands and influencers alike sometimes find themselves entangled in the controversy surrounding him. So, when he once mentioned on twitter that makeup brand Too Faced had shorted Star's ex-friend and makeup guru; NikkiTutorials, in a brand deal, a match was thrown in the fire pit that is the MUA (makeup artist) community.
 This put a dent in Star's relationship with other makeup brands for some time. However, since his personal makeup brand, Jeffree Star Cosmetics, – launched in 2014 – began to excel in sales along with Star's positive evolution of character over the years, hie began to slowly rebuild partnerships and consumer's trust. Collaborating with another influencer who matched Star's realm of controversy had us all waiting on edge to see the actual success of the collection. 
Shane Dawson has been in the YouTube game since 2008 accumulating over 23 million subscribers. Compared to other YouTubers from his time, Dawson was not as recognized by the YouTube community as he should have been for his dedication to the website. Because of his controversial past, it has always been hard for him to build relationships with brands and other YouTubers despite his evident influence on his audience. 
Because of his dark humor, Dawson's overall social standing has not been the best. In his early days of YouTube, his content mostly consisted of random skits in which there were multiple accounts of misogyny and racism, content not quite suited for the liberal audience.    
When Dawson released his documentary on Star in August of 2018, titled The Secret World of Jeffree Star, it blew up to be bigger than Dawson ever imagined. Viewers fell in love with watching the two polar opposites interact: Dawson symbolizing the lower class majority and Star symbolizing the upper class we would all love to live like. 
This documentary subconsciously hardened the connection to each of their audiences as well as captured the hearts of millions. Star is showcased in the documentary as humble and giving while Dawson is seen as relatable and compassionate. By the end of the series, the inspirational thought of a Dawson-themed makeup palette is shown through a conversation between the two in which Star heavily foreshadows his willingness to make it happen. 
The next documentary Dawson released nearly a year later on October 1 titled The Beautiful World of Jeffree Star was more fan- interactive as the film artist worked hard to keep the episodes posted lined up with what was actually happening. The audience was able to follow Dawson and Star through the ups and downs of producing quality makeup from the drawing board to it being in their hands. It was this experience, the customer-seller relationship building, that caused the launch of the Shane Dawson X Jeffree Star Collection so successful despite the controversy surrounding the two.
With the series racking over 100 million views total, the launch of the collection on November 1 was a little hectic. The launch was so anticipated that within the first hour the website crashed and by the end of the first day, the collection was completely sold out, generating a profit of $3 million!
While many users on Twitter shaded others for indulging in the series and collection, it is hard to ignore how much the two influencers have grown to be able to have all that support when before both Dawson and Star bonded over feeling like it was them against the world. 
Who would've thought that they'd actually take the world by storm?