NASD Calls for Equitable School Funding and Charter School Reform
Calling for immediate attention to rightful public school funding and charter school reform, Superintendent Christopher Dormer held a press conference at the administration office last Friday, Dec 5. This was done alongside 13 other Pennsylvania school districts, including Bethlehem and Pottstown, who each held similar conferences at their respective locations. 
"This is about pushing urgency and immediacy for charter and cyber charter reform," Dormer said in a statement. "The PASA PLUS Caucus in the Norristown Area School District are standing together on this day to call for immediate and substantial reform the way we fund all schools and the way we allow charter and cyber charter schools to operate in Pennsylvania."
There are roughly about 7650 public school students in the Norristown Area School District. Within those 7650 students, 85% of them are students of color. Dormer said, "Urban schools have a higher concentration of students of color, students who identify as English learners, and students who require special education." In Norristown, 7 out of every 10 students experience poverty, 1 out of every 7 students is an English learner, and 1 out of every 5 requires special education. 
Dormer presented a graph at the conference that revealed 72% of NASD's funding sources is produced locally through local taxes. "We simply can't generate the revenue that our wealthier suburban neighbors can," Dormer explained. "Pennsylvania needs to provide for us so that we can provide for them."
"Last year the Norristown Area School District spent over 9.5 million dollars for students to attend charter schools," Dormer stated. "While we provide those same services right here, often using the same service providers and curriculum at a fraction of those costs." Due to the current Charter School Law, the money from tax dollars can be used for a variety of activities, like marketing, lobbying, and management fees.
Dormer explained how he is not trying to come at charter schools. "This is not about any individual charter school. This is about the flawed system and the Charter School Law that is called "the worst" in the nation." 
Pennsylvania is ranked as the second-worst state for the imbalance in education spending per student between wealthy and poor districts. "Many students in urban districts face challenges that wealthier suburban districts do not," Melissa Retano, a mother in the NASD emphasized. "Our students often have educational, emotional, and physical needs that are costly. In fact, it has been estimated that it costs two and a half times more to educate students living in poverty than students who do not live in poverty."
Parents in the district are aware of what their students need and agree that without a change in charter school law and inequitable funding, students will not be able to receive the high education they deserve.
"Districts like Norristown must invest every dollar into keeping our schools open and staffed to the best of their ability," Ericka Wharton, mother of five students in the district, said. "We are just beginning to make up for many years of delayed purchases by investing into new textbooks, curricular materials, and by adding computer technology through a recently implemented five-year technology plan that students in other districts had the opportunity to have exposure to prior."
NASD teachers Maria Loebig and Sara Aiello explained the "need for charter and cyber-charter reform." They brought up the suspicion of how and where the charter school money goes."Under current law, charter school funding significantly increases yearly and as a public school district, our state funding does not increase," Loebig said. "Paradoxically, we are required each year to send additional funding to charter schools in our district. This is not fair or equitable." 
Just like brick and mortar charter schools, cyber charter schools also have had their fair share of problems. According to Aiello, "The student performance of cyber charter schools is horrendous." 13 of the state's 14 cyber charter schools are listed as the lowest-performing schools in Pennsylvania, making them the bottom 5% of the state. "This is what taxpayers are funding. This is what is straining critical money from public schools. This is what making an already difficult financial situation even worse," Aiello emphasized.
Student representatives of NAHS' student council also voiced their opinions, describing the district's situation as "feeling cheated on when it comes to funding."
Shae Ashe, president of Norristown's Board of School Districts, publicly called on the state's legislators to "adequately fund our public schools." With change and fair funding, local taxpayers will see more of their money invested in their local school districts, which can hire back staff who had to be laid off due to budget cuts, equip classrooms with more educational resources, and improve and repair school buildings. Ashe said,"Until Pennsyvalnia can wake up, these will only remain dreams to our urban school districts and our children will lose."
"The fact that we allow the funding levels and the discrepancies to exist within school districts, within in one of the wealthiest counties in Pennsylvania, within the wealthiest region of Pennsylvania is heartbreaking," PA State representative Matt Bradford stated. "This has gone entirely too long. We must speak up, not just here in Norristown, not just in suburban districts, on behalf of urban districts. This is a problem across Pennsylvania."
Dormer concluded the press conference by thanking the people who spoke up and the audience for coming to listen. "We are eager to partner with legislators to advocate for bills that reform oversight and funding of charter schools to prevent the continued drains of dollars from our public school," Dormer said. "Ultimately, the future of Pennsylvania's students hang in the balance. We can do better. We should do better by equitably funding our urban schools."
About the Contributor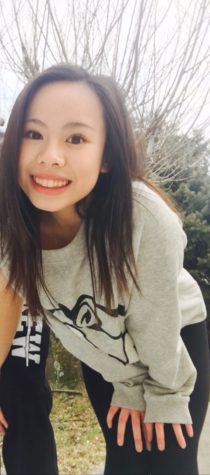 Christina Wong, Associate Editor
I am a junior at Norristown Area High School, and this is my third year of school publications. I enjoy taking naps and binge-watching shows. I hope you...