New College and Career Counselor Helps Students Find Their Futures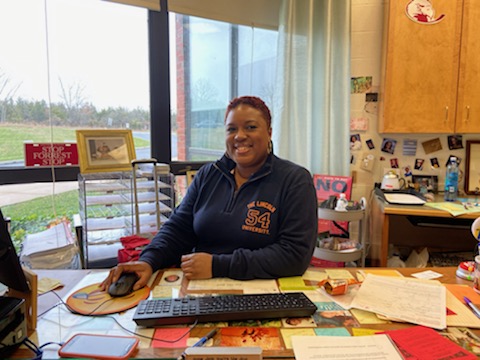 College is something that may or may not be in your future, but if it is, Nicole Mitchell is the person you will want to see. Ms. Mitchell is Norristowns College and Career Advisor, and she is a very passionate person who wants to help all students with their futures.
Ms. Mitchell has been counseling for 21 years and worked as a College Career Advisor for 15 years, but she has held the position at Norristown since last spring. Ms. Mitchell has been doing College Career Counselling on the side before she got the job at Norristown Area High School. She had her own business for the last 4 years called NRE College & Career Network for Parents and Students. This gave her the opportunity to work with more families in the college planning process.
Being a College Career Advisor means that you can help students decide which path they're going to take for their future. College Career Advising is a difficult task, and Ms. Mitchell is extremely hard working. She had to learn how to manage her time in a way that's beneficial to both her and the students. Ms. Mitchell needs students to schedule appointments to come see her because she has to help a lot of students to talk and help. Ms. Mitchell has to turn away students sometimes because they don't have an appointment, she just can't have students walk in randomly to talk because that takes time away from other students that made an appointment.
One of Mrs. Mitchell's major goals is that she wants to help undocumented students find a good college and help them get more opportunities. Ms.Mitchell also wants to figure out what the plan is for postgraduates and how she can help them in any way with colleges and with their future careers, she still gets to work with the juniors that she has known since freshman year.
When Ms.Mitchell first got the job she was "shocked," it all happened very suddenly and she didn't know she was going to have this job. When Ms. Mitchell was shocked about this job she was also excited and she really didn't expect that she was going to get the job but she really enjoys it. Ms.Mitchell enjoys her job because she gets to help students and she really enjoys helping them with their futures.
Some opportunities  Ms.Mitchell has in store for the end of the year is that she wants to start Money grab Monday and Fellowship Fridays every Monday and Friday throughout the months. The new things coming your way are very cool and it can be very beneficial to many students in many ways. This can help students that need to meet with Mrs. Mitchell but don't have an appointment. It will be an appropriate time for both Ms. Mitchell and the students where they can either set up an appointment or have a quick talk with the students.
"This is actually the dream job I never knew I wanted," said Mr.Mitchell. She wanted to be a therapist and help people yet she got the opportunity to be a College Career Advisor and help people in a similar way.  " I absolutely love it, It's the best thing ever." Ms.Mitchell just enjoys helping students so much that she said she "can't even imagine doing something other than being a College Career Advisor." She also enjoys being a College Career Advisor because she gets to talk all day and nobody can tell her anything, "I used to get in trouble for talking and now I can talk as much as I want."
Mitchell spoke of how everyone she works with has been very helpful. "They are very kind to me," Ms.Mitchell says with a smile on her face. You can tell that Ms.Mitchell is a very hardworking, passionate, and a great person to talk to and work with. She is very helpful and a very good person to talk to if you have any questions about college or your future. Ms.Mitchell is the person you would like to go to.