NAHS Students Participate in Bahama Relief Program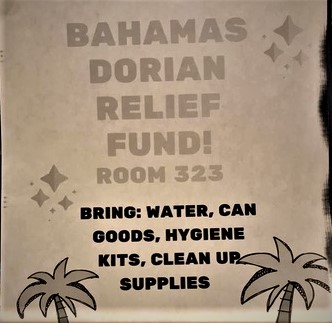 Hurricane Dorian, one of most intense tropical cyclones on record, hit the Bahamas a little over 2 months ago. Dorian was a category 5 hurricane, which is the most destructive hurricane on the Saffir Simpson wind scale, generating winds of 157 mph or higher. Dorian had 183 mph winds and caused more than 8.28 billion dollars worth of damage.
Recognizing a need to support the recovering country, sophomoroes Lauren Sitek and Madison Ramnath started the Bahama Relief Program to collect aid from the Norristown community. The students are partnering with the NAACP and Young Scholars, an organization that  brings new opportunities for the students here at Norristown Area High School.
Young Scholars were interested in this topic so Sitek and Ramnath took it upon themselves to help raise awareness because, according to Ramnath, "they saw all of the destruction and devastation." They wanted to help the people down in the Bahamas to rebuild their homes and gain access to food and water.
The program is asking people to donate essential medicines, like Aspirin and Neosporin, along with clean up supplies, first aid kits, toothbrushes, toothpaste, canned goods, and water as well.
"We get a moderate amount of donations," said Sitek.  Even if people don't go to Norristown Area High School, they can still donate to the Bahama Relief Program by giving their donations to anyone who is apart of this program. They can still donate as long as they keep in touch with the program when they are bringing the donations in and what they are bringing. They also could just give it to the people that are in the program and they could just donate it.
Ernie Hadricks, a member of the NAACP, will be collecting the donated materials and transporting them to the Bahamas. The Bahama Relief Program started at the beginning of October, and it ends November 31, so if you have any items that you would like to donate, please donate for the people in need!
You can donate to the Bahama Relief Program by bringing in the essentials listed above to Ms. Myers's room, 223.