Hardworking Bodega Owner Brings Positivity to Norristown
Bodegas, better known as corner stores, aren't something you would normally talk about with your friends. They are like normal corner store, but include foreign snacks and other items you would want to buy while you're there. The owner of the Mini-Mart on Buttonwood St. and W Airy St.spoke to me about what it s really like owning and working in such a neighborhood staple. 
The owner is Wilson Peralta, and he is a man of character. Talking to him wasn't an easy task as he is a busy man. The interview took place in his store; I sat on a freezer while he continuously helped his customers. He has a lot of tasks to handle in the store considering that he is not only the store's owner but also its only employee. "You got to put the items away, restock stuff that I purchase in the morning time like," he said of his responsibilities. "Prepping the food, coffee, hoagies, everything you can imagine needs to be done so that the store keeps running." 
Running a bodega is a job that the average person would look past, but Peralta's dad always had stores when he was a kid. His father still runs stores. "Unfortunately," he said with a chuckle, indicating that his dad probably shouldn't be working at his age. Peralta's brother also runs a bodega called A&E Food Market near his store. Peralta himself is married with 5 kids, he joked, "I could have a whole basketball team!"
Peralta wants to see his own business grow. "My plan is maybe to try to make the business do the best it can and then maybe make it bigger so I can… make more money," he said.
A corner store owner in an area with a rougher reputation might be concerned, but not Peralta. "I've been in previous neighborhoods where people walked in shot," he said. His store in Norristown, however, has never even been robbed. He was almost robbed once, which put him in a shock, but he kept composure nonetheless. 
 If a robbery were to happen, Peralta would be ready to handle the situation. "Well, I'd call 911 afterwards if I'm alive!," he said. "If I knew that someone was coming to rob me, and they will just ask for money? I have insurance, the insurance will cover me. But you never want to put your life in someone else's hands because you don't know what they're thinking."
Nothing about this job is scary for him. If something does get out of hand in the store, he has a bat and a gun behind the counter. The only thing that affects him negatively is his work schedule. "Of course I'm tired. 90% of the time I'm tired!" he said.
He commutes from his home to work from West Philadelphia to Norristown. "It's the middle ground for me and my girl," he said. "Philadelphia is where we live so that our commutes to work are the same distance. I also grew up there, so it's no problem going back."
Peralta is like any other person, but what makes him interesting is his character. He always brings positivity and has a life that a normal customer wouldn't think to ask about.  Peralta shows that even your local Bodega owner is unique. He works everyday from 8AM-8PM and is always happy to talk, help check out, and serve your daily cravings.
About the Contributor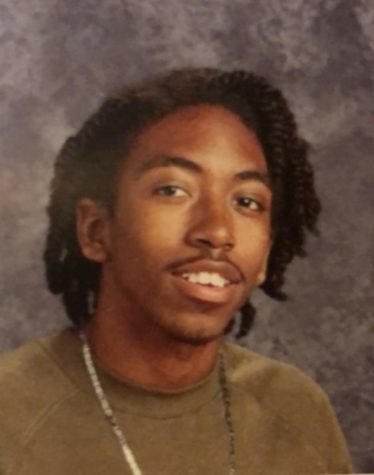 Luis Parker, Author
I am a senior at NAHS. I was in the Wingspan in my freshman year and I'm back and better than ever! I have many interests, but I prefer writing Entertainment,...