Tyler, The Creator Shows Off Storytelling Skills on 'Igor'
Tyler, The Creator has officially made it with his new album Igor. On May 17th, Tyler released his fifth and first number one album on Billboard Top 500.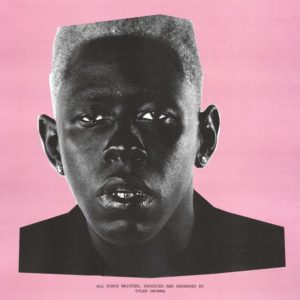 After the large success of Tyler, The Creator's last album in 2017 "Flower Boy," the wait for his new album was intense. Compared to albums released prior to "Flower Boy," Igor was mostly a smoother, more put-together story, specifically one of unrequited love. On the album Igor, Tyler starts off with a little prologue with his song "Igor's Theme". It's mostly just a sense of beats put together, but there are a few lines that immediately sets the mood. "Ridin' round town they gon' feel this one," and "He's comin'," Initially had me wondering whom and what is he running from. It gave me the same feeling I get from watching a scary movie and established my excitement.
The first trial of unrequited love begins with being newly in love. The song "Earfquake" stuck out to me. The entire song was about him simply being in love with someone who seems to not love him back.  It was the most relatable, for a teenager still finding out what love even is. The speaker blames himself for his love interest not loving him and uses the word 'earfquake' for heartbreak.The sounds, the lyrics, everything just fits.  Throughout the entire album, Tyler played off the sad topics in the songs very well with the contradicting happy type beats. I've never been so happy listening to a song about heartbreak.
The songs after "Earfquake" proved the fact that the album was a story perfectly. There is rising action and even a climax. This character, possibly Tyler himself, begins to become obsessed ,saying that if he doesn't have the person he wants then he'll find a way to get them and do anything possible. The theme was a little crazy but nothing out of Tyler's comfort zone.
When you look at past albums of Tyler's, one thing he does very well is transition his music. Each song correlates with another and continues the same topics. I was happily surprised with "Igor," not only because of the story element but because I felt as if it kept the same feeling and style as all of the albums before it. Originally I thought that any album after "Flower Boy" would be fluffy and light-hearted since his style of music had changed so drastically. However, somehow he's kept the same general theme throughout. His lyrics and style are the same but with different background music. Someone who is true to themselves and shows it through their music is hard to see lately, especially when the rap world itself is continuously changing overall.
Luckily, things don't get too crazy because Tyler's character soon comes to his senses and ends his album asking to be friends. From what I see, "Igor" seems to be a well-known representation of what taking unrequited love too far is. I felt as if I was going through all the motions and feelings with the character. I honestly felt I was personally going through the changes that he was going through.
Overall, the album as a whole is amazing. Each song can be listened to as a single, but together, they will bring up emotions and create the most interesting story. There are so many different styles of music in the album that you'll be able to find something you enjoy. Tyler's musical genius peaked on Igor.