Balancing Life As NAHS' MultiSport Athlete: Bailee Hendricks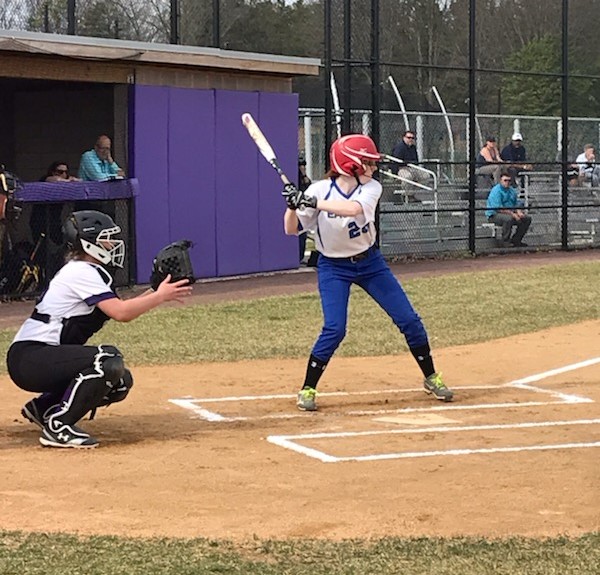 Oxirydiana Salas-Carmona, Staff Writer
April 10, 2019
Children are always trying to find ways to entertain themselves, whether it be art, reading, or sports. As they grow up, however, they often gravitate to one passion. In NAHS' junior, Bailee Hendricks' life, her passion is sports.
Hendricks was nominated as "Athlete of the Month" by the Wingspan staff for the month of April. She was pleasantly surprised that people see her as an athlete that is deserving of the selection. "I'm honestly honored that I was picked as Student Athlete of the Month," she said.
"I know that I'm decent at sports but I don't like to go around telling everybody that I'm good at this or that sport. I try to keep it laid-back, and when someone asks me about it, I'm just like 'ya I do this or that sport.' To be recognized is an honor especially since I'm trying to get Norristown girls sports back up to where they should be."
As a child, Hendricks has been exposed to a variation of sports that shaped who she is as a person today. When Hendricks was around the age of 7, she started out with dance, and quickly realized that is wasn't for her. "I didn't like the color pink, the tutus, or twirling around all over the place," she explained.
Hendricks knew that she needed to have more competitiveness in her life. "I knew I needed to get a little dirty, so I started with Field Hockey and Softball." From there, she realized that the competition level was still not enough for her. She decided to take Softball to travel and decided to ultimately give up on field hockey and focus more on travel Softball, but realized in middle school that she could handle all of the sports she loves.
"I enjoy playing sports because it allows me to be competitive, but also I just enjoy playing. I've also been playing since I was five, so it's my passion, my calling," She proudly stated.
Hendricks has multiple influences that motivate her to encourage her passion for sports. She quoted, "I've been watching college softball for as long as I can remember and there's a lot of good players that I've been watching over the years like Jessica Mendoza and Jennie Finch but my mom and dad have been my biggest supporters."
Hendricks' athletic family members play a big factor to her sports enthusiasm, supporting her by coming to her games. Her mother swam and played field hockey and softball throughout her life. Hendricks' dad  also dabbled in the high school sports' world like soccer, wrestling, and baseball. "We're a very sports oriented family," Hendricks proclaimed.
Not only does her family inspire her to become a great athlete, but her sports "family" does as well.  "My teams mean everything to me whether they know that or not. The sports I play are team oriented sports. Swimming is a little bit of both because you're ultimately trying to beat your own time and I'm in a lot of relays, so I have to depend of the three other people in the pool to drop my times as well."
With Softball season in full swing, Hendricks has a few goals for her and her team that she would love to achieve this time around. "Our goal this season is to improve, not necessarily become a winning team." Hendricks explained, "My personal goal this season is to get ten true hits. I've been trying to work on my hitting. I've already have two hits so far and if I can get eight more this season that would be great."
Hendrick's has many motivations as to why she enjoys softball. "I like that it gives me the chance to show who I am, not only to other schools but also to colleges who might want to come to see me play and I like that I get to have a lot of fun while doing it."
On and off the field, Hendricks finds way to make her impact in the sports world. "I volunteer in the community," she said. "Most of the volunteer work I do is through Special Olympics, which has to do with sports. I love to help out people who are less fortunate than I am."
After a long day of being sports involved, Hendricks still tries to find some time to just be a normal teen and have family bonding time. "Sometimes at home, I tend to just watch tv shows and movies with my mom, but most of the time after sports I go to work or volunteer. Honestly I don't really get a lot of time to myself, but that's okay because I know that I'm helping others."
No matter how good she is or how much she loves the competitiveness of sports, Hendricks knows what her priorities for the future are. She knows that girls' sports is a very difficult career to chase after. "I know in college I want to play softball. The college that I ultimately want to go to is D3, but I know I want to go to college for an education."
Hendricks knows that if she has to drop sports for her education then she would do it in a heartbeat. "I know what's important," she insisted. "As of right now, I don't see my life continuing without a sport in it."