US Representatives Dean and Thompson Speak About Gun Control; Students Press for Answers
Oxirydiana Salas-Carmona, Staff Writer
March 20, 2019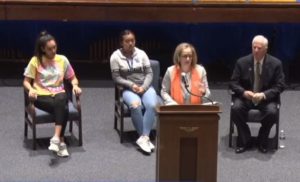 NORRISTOWN — Norristown Area High School is filled with energetic students that love to voice their opinions, but once U.S Representative of California Mike Thompson, and U.S Representative of Pennsylvania Madeleine Dean walked into the auditorium, the room filled with seniors and juniors went silent. On Fri. March 15, the U.S representatives graciously decided to take time out of their busy days and travel from DC up to Norristown to talk to the upperclassmen about gun violence, student safety, and gun legislation.
Adrianna Wright, junior and class president for the class of 2020, and Victoria Le, senior and class president of the class of 2019, introduced our U.S representatives. Dean stepped up to the podium to thank Wright, Le, Principal Ed Roth and everyone who was involved with bringing the representatives in and giving them the opportunity to educate our students. Once the room was informed about Thompson and Dean, the town meeting started to kick off.
"We're here to talk about a difficult subject but America needs to talk about it, it is our American gun violence epidemic," Dean began her speech. Dean opened her statements with statistics from 2017 that show that over 40,000 people died from gun violence in America alone and over half from suicide involving a gun. She also proposed the idea that by the end of the 90 minute town meeting, an estimated 7 fellow Americans throughout America will be dead and 23 would be wounded due to gun violence. Her tone was forthright and somber.
Representative Thompson spoke about H.R 8, the bill that he wrote over six years ago that would expand background checks for people that want to buy a gun in America. "The house is controlled by the other party and their response to all of that was a moment of silence, mass shooting, moment of silence, mass shooting, moment of silence, mass shooting, moment of silence. No action at all," Thompson stated, referring specifically to the Republican resistance towards mass shootings in the United States.For the following ten minutes, Thompson spoke out about how appreciative he is about Dean and her push for more gun regulations and her willingness to make Pennsylvania's Montgomery and Berks Countries gun violence related issues diminish.
NAHS students were then given the opportunity to ask Dean and Thompson their burning questions about gun safety, not only in our state of Pennsylvania, but in the entire country. Most of the questions were answered straightforwardly with sincerity by the representatives, like if they both support the second amendment. Both Thompson and Dean support the second amendment and believe that people should own firearms but only if regulations are put into place to avoid the killing of innocent people, like background checks that make it much more difficult to people that have a violent criminal record.
Lionel Yates, senior, asked, "How are you going to prevent teens and children on getting a hold of their parent's guns?"
"There is no bill that will solve every problem," Thompson responded. "There's no gun bill that will prevents gun violence, just like there is no traffic laws that will prevent all the traffic accidents. It's a step." He continued to talk about about the laws that the state that he represents, California, have that will hold the adult responsible if anyone gets a hold of the firearm and causes a problem with it.
Following Yates' question, Jose Mendoza Zamudio, senior, asked, "Why did it take so long to pass bills to prevent mass shootings?" Dean didn't directly answer Mendoza Zamudio's question but referred back to the Boeing jet airliner crashes, in which countries noticed two plane crashes involving the Boeing 737 Max 8 jet in just six months, taking 400 people's lives. She pointed out that in that situation, people understood that lives were being lost, so they grounded that specific plane model. Dean said she wants the U.S to respond to gun violence with the same energy as they did when the airplane incidents occurred, but there are "forces at work" that are making such legislation difficult. Thompson would then discuss those financial forces to elaborate on Dean's answer. 
Junior Lenny Duran asked, "How do you guys intend to prevent the selling of illegal guns?" Applause erupted from the crowd for addressing another issue involving guns that hits close to home for many. Thompson took initiative in this question. Although he didn't have specific steps on how to resolve this problem, he did ensure that background checks will definitely help. "You're always going to have outliers, people are always going to steal stuff, but you can make a big difference with background checks."
The town meeting came to a close with Dean giving Thompson a T-shirt, with the hashtag enough, which were worn during rally's at the Democratic National Convention and signify that enough is enough already–it's time to take action against gun violence. "We thank you [points to the audience], for being so smart, so engaged," Dean said to close the forum. "You really inspired us, but really recognize the power of your voice, thank you."
NASDTV