'Renaissance in the Belly of a Killer Whale' Stirs and Speaks at Norristown's Theatre Horizon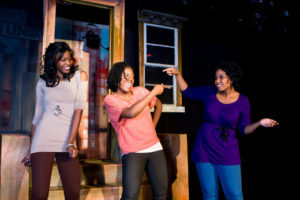 We tend to think of progress as a good thing, but that progress does not always benefit everyone. In the play, "Renaissance in The Belly of a Killer Whale," written by Chyann Sapp, Jaylene Clark Owens, Hollis Health, and Janelle Heatley, Harlem is experiencing gentrification. Rising prices on homes, grocery stores, small shops: these small changes may make neighborhoods such as Harlem more middle-class, but they also push back those who are unable to afford these new prices. Through song and spoken-word poetry, "Renaissance in The Belly of a Killer Whale," which played last this past weekend at Norristown's own Theatre Horizon, brings light to the controversial topic of gentrification and its effect on the people who experience it firsthand.
"Renaissance in The Belly of a Killer Whale" pokes fun at the issue yet teaches viewers how much it deeply affects people and the economy. Gentrification, the rebuilding and repairing of damaged homes in deteriorating areas, (mainly affected by middle class) resulting in change of location, usually in poverty-stricken areas.
Three women, Toni (Hollins Heath), Shayla (Janelle Heatley), and Bridget (Jaylene Clark Owens) use spoken-word poetry to express their opinions and thoughts on how gentrification has changed their daily lives. "Money talks and everything else walks… What am I going to do?" Shayla sighs, expressing her anger and disappointment for how her home is changing into an unfamiliar environment. Although many see Harlem changing for the better, long-term residents such as Shayla see that this change does not benefit her, only Harlem's image.
As the lights dimmed down, turning everything black, I wondered how, with such a small set, this play would hook me in. The show starts with a lively number, in which the three characters come in dancing and singing, soulfully, yet hilariously. As their melodious voices ran through my head, the lyrics struck me like lightning. The opening song explained hardships the girls all face, poetically cursing the changes that have ruined Harlem, their home. It was a refreshing start to a serious and controversial issue.
The play, which runs for an hour and 20 minutes, had no intermissions. Each actresses showed off her talents, through acting, singing, and passionately delivering beautifully crafted poems. Owens, who played the boastful Bridget, especially caught my attention, as her strong and voluminous voice rang beautifully throughout the little theater. Heatley, who played the emotional Shayla, stabbed my heart with her piercing dagger of emotion, the way her words danced along her sharp voice, the pain that was written for her character resonated with me. My most favorite parts of the play were when Heath had the lead, her character sparkled with charm. I loved the way Heath talked and expressed herself, the moments I found that really showed Heath off was when she acted through tough scenes such as playing another character, the one who brought change to Harlem as well as people who had already adapted to the changed city. I had never seen a play as unique as "Renaissance in The Belly of a Killer Whale" before.
"Renaissance in The Belly of a Killer Whale," tackles gentrification artfully, using humor and hard truths to bring attention to a controversial issue. At moments when the issue was handled seriously I couldn't help but be moved by their powerful words. Many of their words stuck, "…accept what you get…" "…it's for those with rights…" "…the fight of a Killer Whale…"
Although I cannot personally relate to the issues of gentrification, many people do. As I sat in the audience, when the issue had been brought up, I could see that many people agreed with the points the main characters expressed, me included, but it got me to think, gentrification happens everywhere, and getting the opportunity to see, is an a play such as "Renaissance in The Belly of a Killer Whale," opened my eyes to the issues people around me, maybe people I even know, face daily.
By opening me to an unfamiliar world, "Renaissance in The Belly of a Killer Whale" has set a new standard for my theatre-going experience. I would love to see more plays that teach me, as well as make me think, not only for myself but for others.