Momentous Night of Dinner and Dancing Celebrates NAHS Seniors
Hang on for a minute...we're trying to find some more stories you might like.
There comes a time in a person's life when they graduate high school and are finally free from the throes of childhood. While the teens that went to Senior Banquet are just a couple months shy from this moment, they had a blast celebrating this milestone last Friday night at the Elmwood Park Zoo Banquet Hall.
The night started slow, with the attendees forming lines to get into the Banquet Hall, each dressed dashingly with immaculate hair. When inside, they were greeted by tables adorned with black tablecloths, gold napkins, and fairy-light centerpieces. Many guests reported feeling very excited for what would become an enjoyable night out with their peers.
After the meal, which consisted of chicken parmesan, green beans, angus beef, vegetable lasagna, and red bliss potatoes was served, the seniors had a chance to settle themselves, a montage of moments from their senior year was shown on a projector. As each picture travelled across the screen, cheers, shouts, and sometimes even screams rang so loud they overpowered the music.
The slideshow was about sixteen minutes long, but still the seniors never lost their energy. Familiar faces and 'Snapchat' videos permeated the video, and groans of embarrassment were common when a guests' own picture or video was shown on the screen.
After the video, as per Norristown tradition hosts Victoria Le and Angel Patel presented 25 mock awards to over 50 seniors, with each award representing its own category. The first award went to seniors Nyasia Perry and Mikeel Allen, for Class Clown.
Alia Fisher, who was voted Best Car, stated, "It was nice that other people recognize other people…Not just for myself [she thinks that everyone deserves an award]. I really like my car, I drive a Dodge Nitro Silver."
All of the reactions from the winners were ones of pure happiness, they were just very delighted to have won.
"Winning these awards are so amazing, and I'm so happy. I just feel very…Wow," Ramir Wiggins, who won Most Spirited and is ½ of a Most Dynamic Duo, said.
While some of the winners had no clue about what they were going to win, while others had knew they'd turn out on top.
"It feels really good to win. I knew I was going to win because everyone at school were telling me," Tyler Gorman, winner of Best Kicks, stated.
Nalise Myer, who won Best Eyes, said, "I didn't know I was going to win it. I felt like it was between two girls, and because I wasn't as popular I thought I wasn't going to get it."
Interestingly enough, who also won Best Eyes, Giovanni Peirgrossi, says "I knew that I was going to get it. For sure."
After the award ceremony ended, the DJs immediately started to play the latest hits. It wasn't long before the dance floor was flooded with animated seniors, each performing their own special dance.
From 'Mo Bamba' to 'Cupid Shuffle', the entire banquet hall was electrified as the seniors took the floor. From left to right, all there was to see were the carefree faces of the students. Dance circles were a constant, Snapchat videos were a plenty, and in that moment nobody cared how they might have looked to outsiders.
By the time 10 o'clock struck, the banquet hall was essentially deserted, as everyone took it as their time to leave. The DJs began to pack up, the tables were cleaned, and no evidence of the energetic party that had taken place was seen.
About the Writer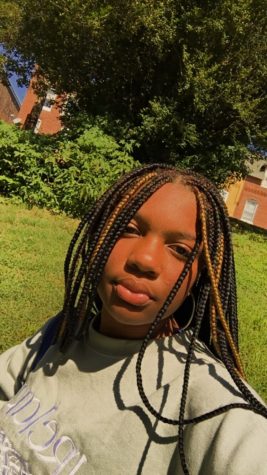 Jon'nette Kidd, Staff Reporter
I am currently a Sophomore and Copy Editor for the Norristown Area High School Wingspan. I am also on the JV Norristown Cheer Team.