Haja Jalloh Reveals Inspiration Behind Award-Winning Monologue, Passion Behind Performing
Janiya Meekins, Staff Writer
January 30, 2019
As a tradition in Damien Bucci's acting class, students write their own monologues and enter them into a contest held by the Philadelphia Young Playwrights.  Haja Jalloh, a sophomore in the class, entered her own monologue this year and won.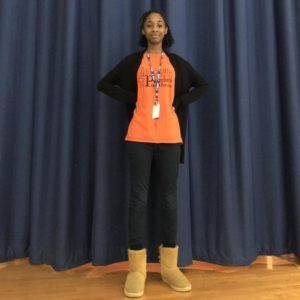 A monologue, for those unfamiliar, is a speech by a character, expressing their feelings – often times to other characters in a movie or play.  Jalloh's own monologue focused on one of the Seven Sins– Gluttony.
Titled "Glutton's Sandwich", a personified Gluttony, the subject of the monologue, finally gets the sandwich she had wanted for a while, but as Gluttony continues her speech, the audience learns that she has a deeper need for the sandwich beyond nourishment.
Jalloh struggled at first through many ideas before settling on this one.  Bucci disclosed that Jalloh went through seven different monologues before she settled on "Glutton's Sandwich".  The idea of the monologue itself came from her own craving for a sandwich from Wawa. Jalloh wanted her father to buy her a sandwich, but he refused, so she wrote the monologue about a sandwich she wanted herself.
Her success has begged the question of where this seemingly natural talent came from.  Jalloh started performing at a young age in third grade. She had wanted to get over her bashfulness, both on and off stage.  After being forced to participate in a third grade play, Jalloh found the stage to be the perfect place to get rid of his insecurity.  At Norristown, she has been in all the school productions since her freshman year, performing most recently at the Young Scholar's Open Mic Night, where she sang a lovely rendition of Billie Eilish's "Lovely."
Her interest in music came from her music teachers in third grade as well.  After singing in front of the class and getting a gold star, then learning the flute, Jalloh found she loved music.  More importantly, she loved singing in front of an audience people. Her love of acting came more grudgingly, however, as she was forced to do some plays in third grade, but eventually found she liked that too.
It appealed to Jalloh that being on stage made her calm.  Her nervousness she would feel about her performance would go away right before she went on stage.  "I thought it was going to be like the movies – hyperventilating and everything – but I was calm," she said about her first performance.
As a child, Jalloh was influenced greatly by television – High School Musical, most notably.  Jalloh saw Gabriella Montez singing and acting,and decided she wanted to be a part of that. Whether it was singing and dancing or even just being familiar with the technology behind to movie-making,  she has refined her goals today to try to keep both herself and her parents happy with the decisions she's making regarding the arts.
Jalloh's goal today is this: "Being good at what I do while balancing my parents' wants."
She explained her parents have enforced an ideal that those kinds of jobs are not steady jobs and will not financially support her.  Jalloh, herself, doesn't know what she will be going to college for, but most of her interests are in the arts, as she enjoys drawing, singing, acting, and playwriting.  Though, she did say, if she could, she would sing professionally. She confidently exclaimed she knew how to sing but doesn't really think her acting is up to par.
Not all the adults in Jalloh's life agreed with this.  Bucci has expressed Jalloh's endless creativity when it comes to writing, and he believes she has a bright future in writing professionally.  Bucci's advice is to have passion, work hard, be able to take criticism, and reflect and improve on your craft you can go far.
"Haja's definitely got those qualities," he said of his student.
Jalloh understands her parents' hesitation with not having a job to support herself, but her passion has been in the arts.  Her parents' suggestions to become a doctor or take on other careers of the like does not particularly interest her. She thinks her parents will make her decide soon between her passion and a financially stable career, but because she is still in high school, she will continue to perform.
Jalloh writes regularly.  Her interest was piqued after reading stories on the free app Wattpad in seventh grade.  She wanted to write and started out terribly; however, she kept writing with hopes of improving.  Now, Jalloh writes whenever she gets an idea of a new story or even if she feels she needs to vent her feelings.
Jalloh gets her writing style from a friend who helped her write better when she started out, but she has since added  a little dark comedic twist to her voice. Jalloh claims she had fun writing the monologue and has even more ideas to write.
Maybe Jalloh will be able to make her dreams come true and become a singer or actress.  If not, she can always write for another actor to tell her story.
Jalloh's monologue will be performed at the Mouthful Monologue Festival from Feb. 28- March 9 at The Louis Bluver Theater at The Drake in Philadelphia, Pa.  Tickets can be purchased and directions can be found at Phillyyoungplaywrights.org 
Jalloh performing with Cylee Davis at Young Scholar's Open-Mic /NASDTV
About the Contributor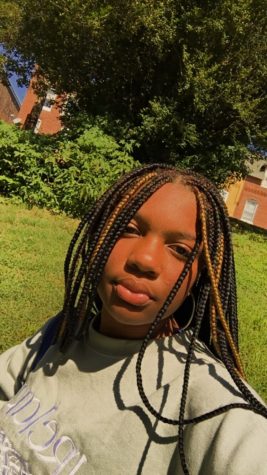 Jon'nette Kidd, Staff Reporter
I am currently a Sophomore and Copy Editor for the Norristown Area High School Wingspan. I am also on the JV Norristown Cheer Team.