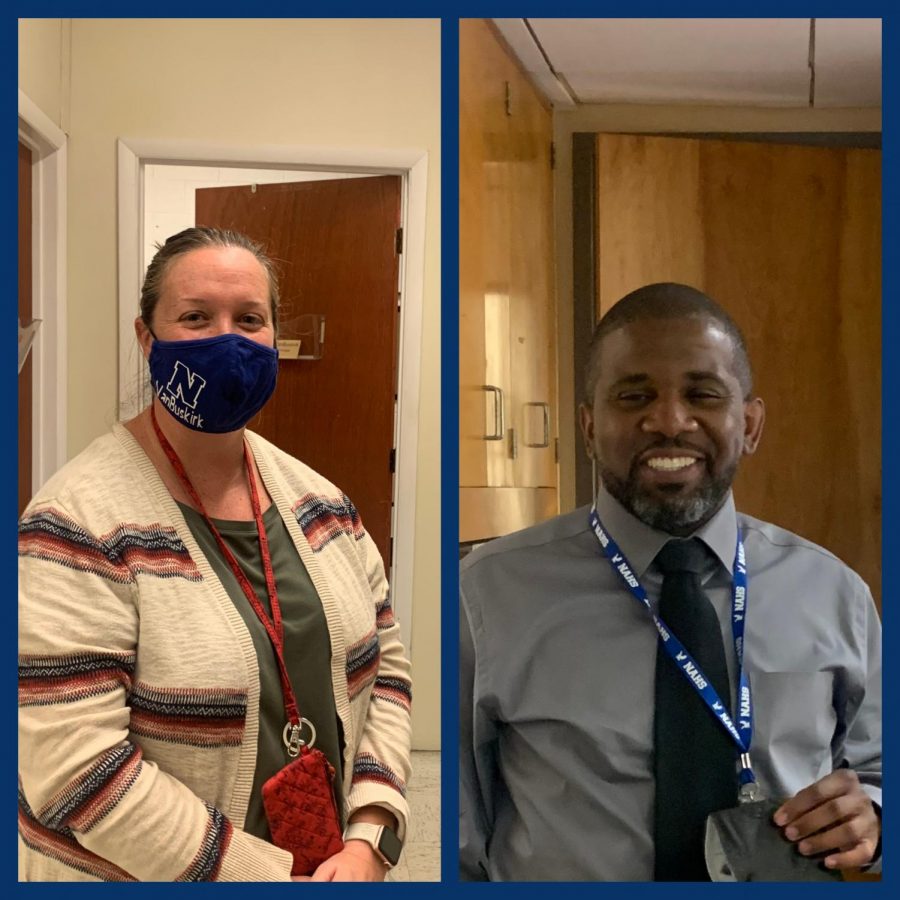 NAHS Welcomes Two New Assistant Principals
October 22, 2021
Nicole Vanbuskirk and Solomon Webb have become our two newest assistant principals here at Norristown, replacing long-time principals E.J. Smith and Charles Brenner, both of whom retired last year. Vanbuskirk and Webb opened up to the Wingspan to share where they're from and the goals they have for both this year and the years to come.
Nicole Vanbuskirk Believes "Extreme Comfort Doesn't Breed Deep Learning"
To kick off the 2021-2022 school year, Nicole Vanbuskirk joined our school community as one of Norristown's new assistant principals. Among her many duties, she is primarily in charge of overseeing scheduling, the English department for grades 10-12, and their electives, along with JROTC and AP testing.
Before she came to Norristown, Ms. Vanbuskirk served as an assistant principal at Central High School in Philadelphia for 15 years. She attended the school as a student as well, spending a total of 19 years at her alma mater. 
Although she appreciated her time at Central, Ms. Vanbuskirk came to Norristown to break out of the familiar environment and push herself to see what more she could accomplish. "Extreme comfort doesn't breed deep learning," she said. 
To be even better at her job, Ms. Vanbuskirk needed to see how "other people do it," believing she was getting too comfortable at her old school because of the amount of time she was there.
One of Ms. Vanbuskirk's goals here is to help the other leaders and assist in continuing Norristowns traditions; however, she also really hopes that the work she does helps students overall accomplish more in the classroom. 
"Scheduling is one of the few things in any high school building that can help drive academic success," said Ms. Vanbuskirk "Creating many options for students in their schedule and making it work creates the best college application. That is a key teller of how good a high school is, by what students do next."  
She wants every student to have the best portfolio possible for when they leave high school and go out into the real world. 
Because of her experience and help along the way, Ms.Vanbuskirk believes she has become a better assistant principal.
"
Creating many options for students in their schedule and making it work creates the best college application. That is a key teller of how good a high school is, by what students do next."
— Nicole Vanbuskirk
"I have had amazing mentors at both Central High School and Mastbaum [a vocational school in Philadelphia]," Ms. Vanbuskirk said. "I've had this wide variety of experiences, and seeing what students need to get to the next step I think has really prepared me well for coming here." 
While Ms.Vanbuskirk is happy to be here, she knows one of Norristown's biggest issues is funding: we need money to buy the necessary things for the quality of our school to improve, like providing more desks and hiring more teachers just to accommodate for the number of students here this year. "This building wasn't built for the number of students who are here," she said. "Something that is beyond our control here in our building is having a fair funding formula."
Her favorite part of the job is working with students. As a teacher, you only see a select group of students every year, but Ms. Vanbuskirk states, "as a VP [ an assistant principal], you get to see a little bit of everybody."  
She says the worst part of her job is the paperwork and the meetings she has to attend because of her job title.
"It comes with the job but it's not the fun part where you get to just chill and hang with people," Ms. Vanbuskirk said
Ms. Vanbuskirk spoke about how she can't wait to see how the school year will carry on Norristown's legacy.
"I am so excited to be here. I just want to meet new people," said Ms. Vanbuskirk.  "I'm excited to work with the students and teachers and see what I can offer them but also what they are offering to the school."
Norristown too is excited to welcome a principal with so much enthusiasm and experience.
Leave a Comment
Solomon Webb Wants NAHS "To Work as a Team and as a Family"
Layla: So how are you today?
Mr. Webb: I'm doing well, thank you for asking.
Layla: You're welcome. So, my first question I have is, tell us about your life before coming to Norristown. Where did you grow up?
Mr. Webb: I was born in Bensalem. We actually now live in about the same house, just a little far down. I was very familiar with Norristown growing up. In high school and college, I wrestled and went on to coach, and all of that fun stuff. But, I spent lots of time here competing, so when this opportunity became available, naturally, it became something I was definitely interested in because I've had so many great experiences here.
Layla: Where did you go to school?
Mr. Webb: High school or college?
Layla: Both!
Mr. Webb: High school: Bensalem. For college, I went to Millersville University, but I transferred and graduated from Bucknell University. I stayed there and earned my Master's there.
Layla: How did you hear about Norristown?
Mr. Webb: I've known about Norristown since I was a kid because I competed here for years.
Layla: Have you had any experience with high school before?
Mr. Webb: Yes, I taught high school math for 17 years.
Layla: Oh cool! Where did you teach math?
Mr. Webb: Quakertown. I was at the high school for 17 years, and I also taught at the middle school level as well. High school was where I spent most of my teaching career, so when the opportunity came up, it was a good transition for me. It is closer to home, and more importantly, just the opportunity to work with students in a different capacity, and becoming a principal is something I've been interested in for a while. I've done a lot of work outside my classroom, and so I wanted to go for it and see what happened. It all worked out, and it is really exciting.
Layla: Yes, it is exciting! Were you excited to start this position and become Norristown's next Vice Principal?
Mr. Webb: Yes, absolutely. There's always excitement and nervousness when you start a completely new position, but honestly, everyone here has been amazing. Even during the interview process, I found that all of my peers and coworkers were very friendly, open, supportive, and encouraging, which I think makes for great leadership. I feel like I am in a great place where I can learn and grow while helping support other areas as well.
Layla: Did you know anyone already from here?
Mr. Webb: No, I didn't necessarily know anyone at the high school. I've worked with a few people who have been in the district in the past. I was working and actively job searching, and this came across my job search and I thought it could be a great fit for me,
Layla: How are you liking Norristown Area High School so far?
Mr. Webb: I'm excited! There are lots of things to learn. The people and kids are great, and it is a good atmosphere. The goal is to help students to grow, not just academically but socially and emotionally. It takes time, but I'm someone who likes to build relationships. My interactions with the students so far have been very positive, but in my opinion, in order to really help and effect change, you have to know who you are working with. Everyone that I've worked with across the board (teachers, parents, students) has been friendly and interactive even through some of the challenges we have experienced over the first couple weeks of school. The good thing is, for me, that through time, I will learn what the ins and outs of Norristown Area High School are, and you guys, especially my senior class. I want to learn about all of the students and how I can better serve them.
Layla: Right, I agree. So, help the students get to know you. What are some things that you like to do?
Mr. Webb: I was a wrestler, so I am excited to see those games, as well as all of the games because I want to get to all the sports. I am a diehard Eagles fan.
Layla: Nice!
Mr. Webb: Every year, I believe the Eagles are going to win the Superbowl. I own a couple of Eagles ties, so you are going to see my Eagles stuff. If you look at my office, you will see I have some Eagles stuff posted. Definitely, I am a huge Eagles fan. I have four wonderful children who are my life and my world. My kids are active, so I spend a lot of time with them, involved with sports. 2 of my sons box, so I get to go and spend time with them as well. I haven't played in a long time, but I'm phenomenal at Madden on PS4.
Layla: Really? Nice! Do you play the Eagles when you go on?
Mr. Webb: Oh, well, the Eagles haven't been good lately.
Layla: Yeah, sadly.
Mr. Webb: But yeah, that's pretty much it. I'm a family guy.
Layla: Awesome. So, what are some things you hope to accomplish for Norristown?
Mr. Webb: My goal is to be of service. I'm looking to help wherever I can and be supportive. I want to provide additional insight. I think my 20+ years of experience in a classroom gives me better insight on how to better support our teachers and in turn, our students. It's important to build relationships and learn how things are going, and start to work from there. I don't want to jump in and say, "Well oh, we have to do this." I think it is better to work as a team, and as a family by working together. I think I have some good ideas and I want to work as a team to help us better serve you guys and of course, the community as well. That's important.
Layla: Right. Are you excited to be working with seniors?
Mr. Webb: Yes! I'm very excited. I'm excited about all of it. I just feel like it is a great opportunity. A good school is what you make of it. I feel like I have had some great opportunities in my career, and the experiences I have received, such as Division 1 wrestling. I have a unique experience about what that is like, and how challenging it can be. Those are the opportunities I would like to share: chasing after your dreams and understanding that chasing your dream and saying "I want to go do this" requires work you have to put in. I can share that because I did it, and that's what I'm truly excited about. I'm excited about sharing and helping students grow in whatever capacity I can. The truth is, every student is different, and however I can support them is what I want to do,
Layla: Is there anything you would like the students of Norristown Area High School to know?
Mr. Webb: Go Eagles!
Layla: Yeah, for sure. Our eagles, and the Philadelphia Eagles!
Mr. Webb: Absolutely! That's why I get to say Go Eagles!
Layla: Is there anything else you'd like to add?
Mr. Webb: Nope, just that I'm excited and I'm looking forward to getting to know everyone. If you see me in the hallways, say hello. It's a big building. It takes me a while to find my way around too.
Layla: Yeah.
Mr. Webb: If you see me walking, or if I need help, or want to have a good conversation, be sure to come up to me, and we can move forward from there.
Layla: Alright. Well, thank you so much!
Mr. Webb: Thank you! I appreciate it.
Leave a Comment