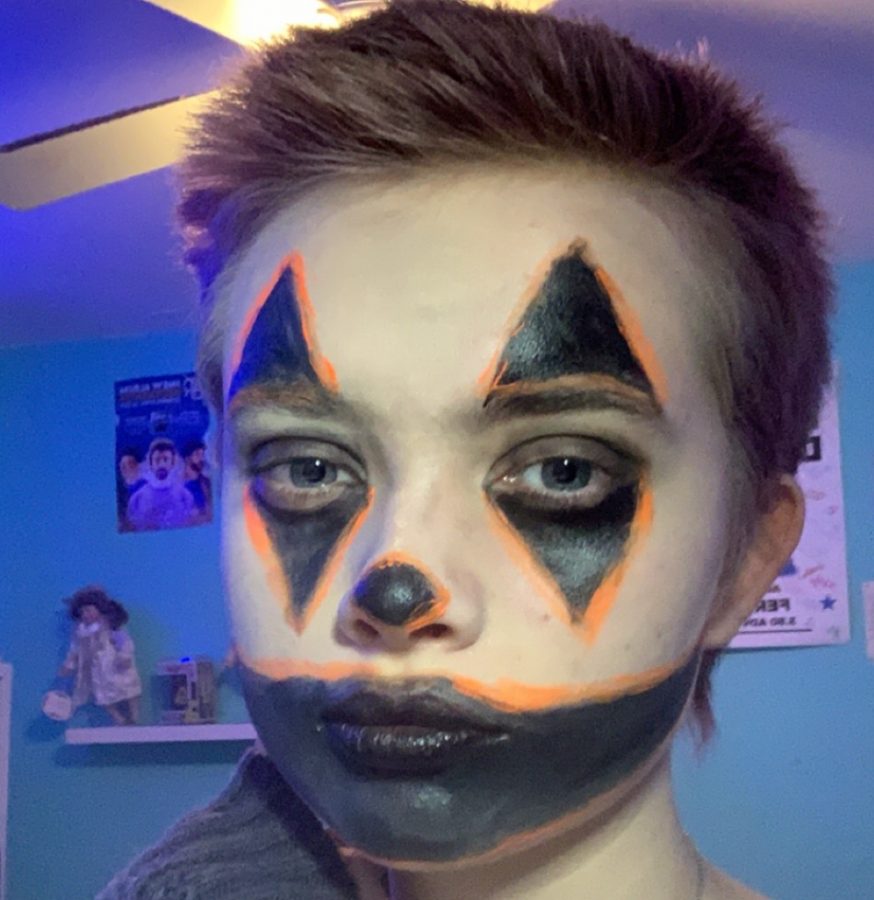 Hope Rose Mauch
Halloween is creeping closer. The night of the dead is when people can become something new in a flawless way! During the Covid-19 outbreak, people have been trying out new hobbies and picking up skills like doing makeup. Only being able to communicate virtually for Halloween this year, makeup is a great way to show off your Halloween spirit. 
The most popular makeup trend of the 2020 Halloween season is the neon clown face. For those who are looking to create this make-up look with minimal effort and very few supplies, just follow these simple steps to ensure maximum spookiness. You can find all of the products at a Halloween store, drug store, or if you want them in advance, Amazon. 
     For this look you will need about three to five products:
Primer or foundation 
Eyeliner pencil
Black face paint/ Eyeshadow
Neon face paint
Make-up Remover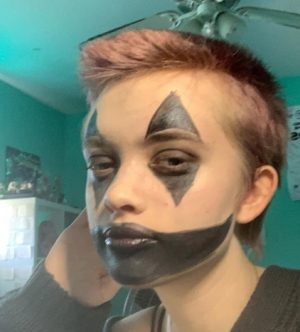 The best first step to any makeup look is to wash your face so you can start with a clean canvas. To start, you should always prime your face by using a face primer so the makeup will stick better to your face. After applying the primer, you should put on the foundation to make your skin look even. These two steps are not necessary to have an amazingly scary makeup look, but it would make everything look more put together if you do. This is your look, add whatever you feel makes your look feel complete!  
       The next thing you will do is take an eyeliner pencil and draw 2 triangles, one of them above your eyebrow and the second one upside down and under your eye. You will draw a bigger smile around your mouth. This will come up on your cheeks and go above and under your lips.
Then, using black face paint, fill in the shapes you just made. If you would, like you can draw a small circle on the tip of your nose and fill that in as well.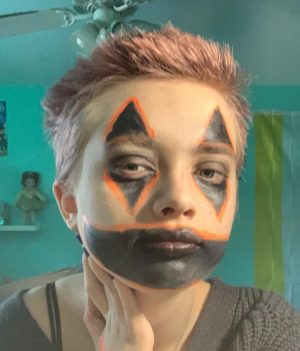 Now, this next step is probably the most important and tricky step. You are going to need to get neon face paint or eyeshadow and outline the black shapes. This can be any color you like; however, pink, yellow, and orange work really well for this look. This step might be a little difficult because the lines have to be even and straight all around the black shapes. 
       After you have completed this step, you can go back and clean up any parts of the makeup to make them look however you want. If you want everything to blend better on the eyes, you can put on a black or dark brown eyeshadow to make the triangles around your eyes look well defined. Once that step is complete, you are ready to have an amazing Halloween night. 
For removing makeup, you should use a makeup remover like Micellar water or makeup remover wipes. Have patience when doing this step because removing black face paint is not easy. You can use coconut oil, warm water, and a washcloth if you can not use makeup remover.