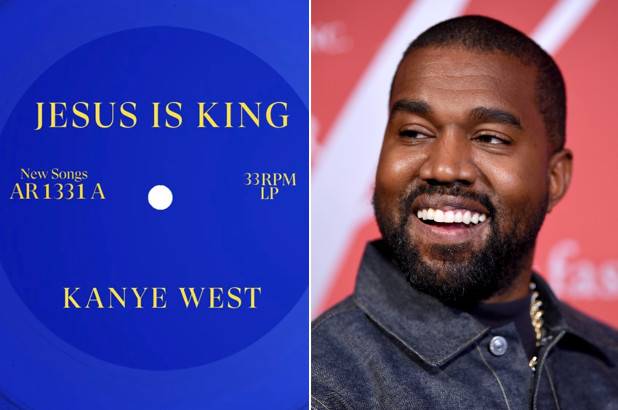 Def Jam/Getty Images
After September's album release turned out to be just a teaser, Kanye West left fans disappointed. Kanye West's long-awaited, so-called non-secular album "JESUS IS KING" had finally arrived!
Labeled as a gospel album, "JESUS IS KING" is nothing like any of Ye's past music. The album marks the beginning of Ye (Kanye) no longer making secular music. This leaves questions like what does secular mean? and why has Ye stopped making non-secular music? To answer the first question, "secular" means not having to do with religion or Christianity as a whole; therefore, Ye's album being labeled "non-secular" means it's actually religious. Ye said he stopped making non-secular music because he grew uninterested in those topics.
The album's opening track, "Every Hour" doesn't include Ye's vocals, but instead is sung by his Sunday Service Choir. It sounds like something you would hear in a church. Blessing listeners with joyful lyrics, it definitely includes emotion, giving off a positive vibe as you can hear happiness emerge from the choir's melodic voices. 
The first song to include Ye's voice is "Selah." This track has a more of an aggressive tone, which he addresses by saying "I ain't mean, I'm just focused." While this might not immediatly feel like gospel, Ye makes 2 bible references in this song by bringing up verses from the book of John, 8:33 and 8:36. He reads 8:33 as "Won't be abolished to any man" and he brings up 8:36 saying "We, the descendants of Abraham Ye should be made free," which are his own personal takes on the verses. 
The next song is called "Follow God," which actually isn't a gospel song; rather, it is more of an upbeat rap song. The song had fans wondering if it was sampled from "Father Stretch My Hands Pt. 1," a song from a previous Ye album, "The Life Of Pablo," due to the familiar voice at the beginning. "Follow God" touches on Ye's deepest thoughts, his emotions, and also includes a conversation with his father.
After that follows "Closed On Sunday," and yes it mentions Chick-Fil-A. Because the song is so focused on family, daughters, and selfies, I presumed that the song is about the Kardashian/Jenners. It's a semi-sweet song, as he refers to the other person as their "#1 with the lemonade." The song then abandons the guitar instrumental in the background and switches to a beat with a sound that is more modern. Autotune is also used within this track.
 "On God," however, is my personal favorite, as I fell in love with its beat upon my first listen. It's produced by Pi'erre Bourne a well-known producer known for making beats for PlayBoi Carti, 6ix9ine and more. His producer tag is a clip from the Jamie Foxx Show, reading "Yo Pierre, you wanna come out here?" which may be one of the best producer tags ever. The song's beat reminded me of music from the older Sonic video games due to its retro vibe. It's an inspirational song that talks about the people he cares about, how hard he has worked, what he got after working so hard and how now that he is religious. 
Besides those I mentioned, not many songs truly grabbed my attention when listening; however, the song "Everything We Need" did only due to its featured artist, Ty Dolla $ign, who doesn't typically make gospel music. 
Surprisingly, the song, "Hands On" caught me in wonderment. But why did it? Honestly, the track is overlayed with talking rather than rapping or singing. It opens up with a voice saying "Hands On," but with weird distorted sound effects over it, giving the album an eerie vibe. The song is pretty much just talking over an eerie instrumental, and sure, he talks somewhat faster at some points, but not with rhythm, flow, poetry or any frequency–it is really just talking. It was different than any other song in the album. You could say that the "song" is more of a monologue. 
As I write this review, I am listening to the album on repeat. And as I near the end of the review, the final song "Jesus is Lord" begins to play. Although there were mixed opinions on the song, I for one really enjoy it. Even though I am not religious, I still like how different it is compared to anything Ye had ever created. I'm glad he found a topic that inspired him to create such an album. It may not be everyone's cup of tea, and it definitely wasn't mine at first, but I still listen to it constantly and cherish "On God" every time it shows up on my playlist. If you're not into discovering new things and hearing them out before judging, definitely give this album a listen. Sure, not all the songs were my taste, but some definitely took me by surprise, and those I like, I really like. 
After re-listening, my thoughts on the album changed quite a lot compared to when I first listened to it. "JESUS IS KING" has something for everyone; even if Ye is not your top picked artist to listen to, give his music a shot. With how diverse his music is, there's definitely a song waiting just for you to listen to it. Get out there and discover art; who knows, there might be a whole new world waiting for you.